Going out to dinner to celebrate Valentine's Day is always a nice tradition but how about planning a little something different for your main squeeze this year?
In San Diego, there are plenty of unique ways to celebrate the romantic holiday, from cruising along San Diego Bay or a thoughtful museum tour, to craft beer events, food halls, and hikes, here's a guide to planning a memorable Valentine's Day outing in America's Finest City.
Check Out Wonderful Waterfront Views
Times and Locations Vary
From La Jolla to the Embarcadero, Oceanside to Del Mar, San Diego County is home to endless beautiful, waterfront views. Grab your honey and check out the scenery at one of these must-see spots. You could even pack a picnic and make a lunch date of it.
[G] 8 Must-See Ocean Views in San Diego
Hornblower San Diego Cruises
Times Vary, Pier 1 (Hornblower Landing) or Pier 2 on North Harbor Drive
Enjoy breathtaking views of San Diego Bay and marine wildlife aboard a Hornblower cruise on Valentine's Day, departing from either Pier 2 (970 N. Harbor Dr.) or Pier 1 Hornblower Landing (1800 N. Harbor Dr.). There are several options on Feb. 14, such as the Whale & Dolphin Watching Adventure($43 per person), a 3.5-hour excursion with professional live narration on marine life from expert captains and whalers from the San Diego Natural History Museum, which departs at 9:30 a.m. and 1:30 p.m. There's also the one or 2-hour Harbor Cruise & Sea Lion Adventure ($27 and $32 per person, respectively), which both depart at 10 a.m. Hornblower is also offering a couple of Valentine's Day dinner cruises in the evening: a Romance Dinner Cruise and the elegant VIP Cupid's Dinner Cruise, each departing from Pier 1 at 7 p.m. No matter how you set sail, make reservations ahead of time.
Take a Hike
You Choose the Time, You Choose the Trail
Put on some comfy gear, fill your daypack with water and snacks and connect with nature and your partner on a nice, scenic hike on one of San Diego's many trails. Try Cowles Mountain in the East County or Iron Mountain Trail off Poway Road and SR-67, or head to the seaside trails at Torrey Pines State Reserve or Sunset Cliffs. The San Diego Hiker's Association has great information about how to access local trails and what to expect on your chosen adventure.
Top 7 Hiking Trails in San Diego
Liberty Public Market and Liberty Station
11 a.m. to 7 p.m., Liberty Public Market
Liberty Station and Liberty Public Market could also make excellent date spots on Valentine's Day. If you're into smaller, local vendors, you could grab a bite at the market and enjoy your food on the pretty patio, open from 11 a.m. to 7 p.m. Over at Liberty Station, you could snag a dinner reservation at one of many restaurants or over at the luxury movie theater, The Lot. Of course, NTC Park is a nice place for a romantic walk under the stars, too.
San Diego Museum of Art Tour, Picnic & Walk
5:30 p.m. to 7:30 p.m., San Diego Museum of Art
File this under charming: the San Diego Museum of Art in Balboa Park will offer 30-minute, docent-led, after-hours tours on Valentine's Day for lovebirds who love the arts, followed by a romantic picnic. After strolling around the museum, couples will visit the May S. Marcy Sculpture Court and Garden at the Panama 66 restaurant where they will be given a picnic basket filled with everything needed to two: gourmet sandwiches, a cheese or vegan plate, dessert, and a bottle of champagne, wine or growler of craft beer from Panama 66. After the picnic, end the evening with a stroll around the garden. The museum tours will be held every half-hour from 5:30 p.m. to 7:30 p.m. Tickets for this all-inclusive tour and picnic package are priced at $130 per couple.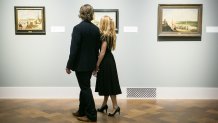 Beer & Cheese Pairing
6 p.m. to 7:30 p.m., Venissimo Cheese at Bottlecraft
You had him or her at cheese. Venissimo Cheese hosts this casual Valentine's Day craft beer and cheese pairing event at its location inside Bottlecraft in North Park. Lovebirds will sample seasonal pairings that scream love in every language. Tickets cost $40.
4th Annual Anti-Romance Party
6 p.m. to 9 p.m., Duck Foot Brewing Company Tasting Room
If you're not into Valentine's Day, here's an alternative for you: the annual "Anti-Romance Party" at Duck Foot Brewing Company in Miramar. The adults-only event features games, adult-themed coloring books and, of course, craft brews. This year's beer special is a Red Ale with Peanut Butter, Cocoa Nibs, and Sea Salt – a mildly dark, salty blend, fit for the anti-romance vibe.
Flight School: Beer & Chocolate
7 p.m. to 8 p.m., Stone Brewing World Bistro & Gardens (Liberty Station)
Invite your sweetheart to this suds-meets-sweets event at Stone Brewing World Bistro & Gardens at Liberty Station, where an expert will guide you through four samplings of chocolates from Chuao Chocolatier paired with four tastings of Stone brews. Tuition to this so-called "Flight School" costs $15 a pop.
Steak, Chocolate Cake & Craft Beer Pairings Dinner
7 p.m. to 9 p.m., North Park Beer Company
If you love craft beer, this dinner event at North Park Beer Company may be the way to go on Valentine's Day. The $50 per person coursed dinner will be served in the taproom, with dishes created by local favorite, Mastiff Kitchen, each expertly paired with a craft brew. Seating is limited, so reserve your spot ahead of time.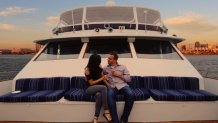 Valentine's Day Cruise on San Diego Bay
7:30 p.m. to 10 p.m., Flagship Cruises & Events (990 N. Harbor Dr.)
Enjoy dinner, dancing, and cruising around San Diego Bay aboard a luxury yacht on Valentine's Day. Flagship Cruises & Events will host this special Valentine's Day Cruise from 7:30 p.m. to 10 p.m. which includes a glass of champagne as you board, a three-course dinner, music and endless romantic views of the scenic bay – from the San Diego skyline to the Coronado Bridge. Tickets cost $89.50 per person; for $30 more, you can upgrade to a hosted bar throughout the cruise.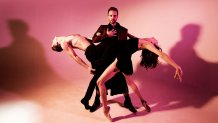 Somebody to Love
8 p.m., The Music Box
"America's Got Talent" finalist and San Diego native Brian Justin Crum brings his powerhouse vocals to the stage at The Music Box in "Somebody to Love," a Queen-inspired, rock-meets-ballet concert. The show features Queen's iconic songs plus the talents of ballet dancer and San Diego local Kirsten Bloom Allen for a uniquely artistic, multi-sensory experience. General admission costs $67, or you could upgrade to a reserved table, plus a pre-show meet-and-greet.