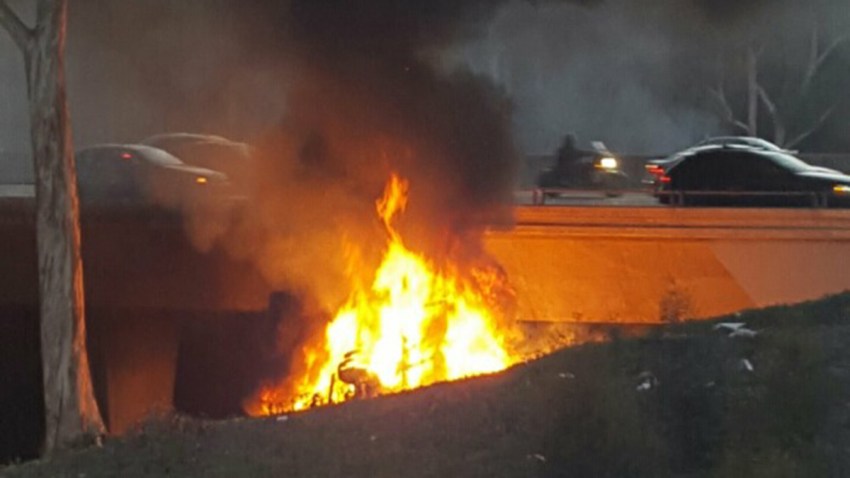 Three good Samaritans rushed to the aid of two people trapped in an overturned truck moments before it exploded into flames.
At about 5:15 p.m., a box truck from Servpro of North Vista, a home restoration business, was rear-ended as it traveled north on State Route 163, San Diego Fire-Rescue officials said.
The driver overcorrected and flipped over the guardrail, sending the truck tumbling down an embankment, just feet from northbound I-805.
Three men following about 180 meters behind -- RJ Paglino, Jacob Pitman and Trevor Jackson -- saw the truck topple over and rushed to help.
The men said they first pulled a woman from a small gap about a foot wide. They then rescued the man.
"When we got to the roadside, 30 seconds after pulling them out of the vehicle, it blew up and was engulfed in flames," said Paglino.
The victims, 20-year-old Marlene Filares and 22-year-old Chris Mitchell, were taken to the hospital with moderate injuries. Filares is expected to be released Thursday night, and Mitchell should be released Friday.
Shortly after, Jose Araya, the owner of Servpro of North Vista, arrived at the scene to check on his employees.
"I don't believe what happened. I would say we won the lottery today - ourselves and our guys. And thank God that they are, not too well, but OK," said Araya. He said they were both very shaken up.
Soon, both victims were surrounded by family in the hospital. They said they are so grateful to their loved ones' rescuers.
"Very, very thankful for the guys who took him out of the truck," said Mitchell's mother Fernanda. "Thanks to them, my son is alive. I want to thank them with all my heart."
"I just want to thank the people that saved her and got her out of the car," said Filares' sister Aracele.
After the crash, police stopped all vehicles on northbound I-805 and some lanes of SR-163, snarling rush hour traffic.
A witness said the fire was spreading to a nearby tree, but firefighters arrived quickly enough to stop it from going far.
When the fire was extinguished, there was nothing but a shell of the truck remaining.