San Diego's hepatitis A outbreak is far from over: 20 more cases of the infection have been reported since last week, bringing the tally for the countywide outbreak to 481 cases.
San Diego County Supervisor Ron Roberts on Wednesday said the latest tally includes 17 deaths and 337 hospitalizations in the hepatitis A outbreak that's expected to last several months.
Meanwhile, San Diego Mayor Kevin Faulconer announced the City Operations Yard, located at 1484 Caminito Center and 20th and B streets, will be temporarily converted into a "transitional camp area" for the homeless.
The camp – set to open on Monday – will provide shelter for more than 200 people and their pets living on San Diego's streets, plus access to bathrooms, showers, hand-washing stations, and storage for their belongings. Local nonprofit Alpha Project will help maintain operations at the camp. Shuttles will help transport people to and from the shelter.
Bob McElroy, of Alpha Project, said fences and trailers will be brought into the space Wednesday, with tents to follow.
Faulconer said the facility will serve the homeless as the City of San Diego works to install three temporary shelters in downtown San Diego, Barrio Logan and the Midway District within the next 60 to 90 days.
A spokesperson from Faulconer's office said this camp, plus the forthcoming shelters, will cost millions of dollars.
The camp and shelters are part of efforts by city leaders to provide sanitary living conditions for San Diego's homeless population amid the spread of hepatitis A.
As of last week, local health officials said about one-third of the hepatitis A cases have involved people who used illicit drugs and are considered homeless. Of the cases, 25 percent are neither homeless or drug users.
County officials have not identified the locations of cases but did report last week to the County Board of Supervisors that there have been 38 cases in the unincorporated jurisdiction of the county. Of those, half were homeless, illicit drug users or both.
As of Sept. 23, more than 42,000 vaccines have been administered in San Diego County. Close to 700 people were given the vaccine as a precaution after exposure to the virus.
Officials said 22,406 were given by health care systems or pharmacists but 15,662 vaccines were given by county staff in the field, in jails or detention centers or the county psychiatric hospital.
The City of San Diego has installed new bathrooms in the East Village to help curb the spread of the virus. That area has a high concentration of transients. Those restroom facilities will be maintained at least twice a day, and will be monitored by full-time security, the city said. There are now 22 public restroom facilities in downtown San Diego, as listed here.
City crews have also sanitized sidewalks in the downtown area and installed hand-washing stations.
County health officials have also notified 14,000 food facilities in the area as well as agricultural growers and public pools.
Hepatitis A is a liver infection caused by a virus that is highly contagious. The Hepatitis A virus can be contracted by touching objects or eating food that someone with the Hepatitis A infection has handled or by having sex with someone who has an HAV infection.
Some people get the virus but have no symptoms. Signs of infection include fever, fatigue, nausea, loss of appetite, yellowing of the eyes (jaundice), stomach pain, vomiting, dark urine, pale stools, and diarrhea. Adults are more likely to have symptoms than children.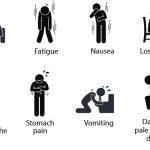 The California Department of Public Health suggests anyone who has been exposed to the virus, and who has not been previously immunized for Hepatitis A, should consider getting vaccinated no later than two weeks after exposure.
For more information, go to the San Diego County Hepatitis A Outbreak website.