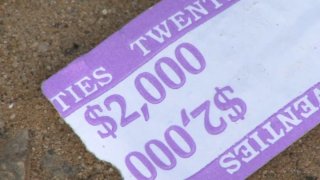 Traffic in North County San Diego came to a standstill Friday morning when drivers discovered money all over Interstate 5.
Travelers jumped out of their vehicles in both directions in Carlsbad near Cannon Road around 9:30 a.m. to scoop up what appears to be bills all over the freeway.
An armored car had somehow opened, allowing cash to fall out, according to the CHP.
"One of the doors popped open and some bags of cash fell out," CHP Officer Curtis Martin said. "Some of the bags broke apart in the lanes and there was cash across all the lanes."
Officials said an investigation is underway to determine why the money fell out of the vehicle. The amount of money that went flying is not yet known, nor has it been determined how much has been recovered.
It's not clear yet what denomination the bills were, but Instagram user @DemiBagby posted herself with fistfuls of ones.
An armored car is visible in her IG post, stopped and appearing unoccupied.
"This is the most insane thing I've ever seen," Bagby said while people darted around behind her on the video, grabbing bills. "Someone dropped money all over the freeway."
It's not clear yet what denomination the bills were, but various Instagram users posted themselves with fistfuls of ones.
The CHP said several people picking up money gave bills to officers, while others were seen driving away with stolen money.
"The CHP would like to thank those motorists who have already returned money to their local CHP office and remind the public to do the right thing and return any money they found on the freeway. To return money, please contact the CHP Dispatch Center at (858) 637-3800," the CHP said.
Those who picked up the cash can avoid potential criminal charges if they return it within 48 hours, the CHP said. Investigators are working with the FBI to identify people and license plates spotted at the scene.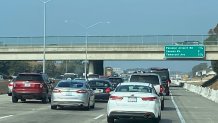 What Happens to the Cash?
Law enforcement officials told NBC 7 that by 11 a.m., two arrests had been made in connection with the incident.
Anyone who did pick up cash and left the scene is being urged to return it to police, a CHP spokesman told NBC 7, saying that taking money in a situation of this nature is a criminal offense.
"I know that cash floating around is a tempting thing for a lot of people but it's not their money, so it needs to go back to the bank and back to the FDIC," Officer Martin said.
Martin added that they have obtained video evidence showing the faces and license plate numbers of people who stopped to pick up the cash -- and suggested investigators will be tracking people down.
"So I highly suggest anybody who picked up cash -- it's not your cash -- so turn it into a CHP officer," Martin said, adding that both the CHP and the FBI in San Diego are investigating the case.
People who turn in cash should explain that the money was recovered in connection to Friday's incident on the I-5.
One driver named Jasmin who spoke with NBC 7 said she pulled over to see if "she could get lucky, too, but good thing I didn't get lucky 'cause I found out it's illegal."
Remarkably, this is not the first time such a thing happened in San Diego: In 2009, some people hoping to elude police tossed cash out of their SUV during a chase.