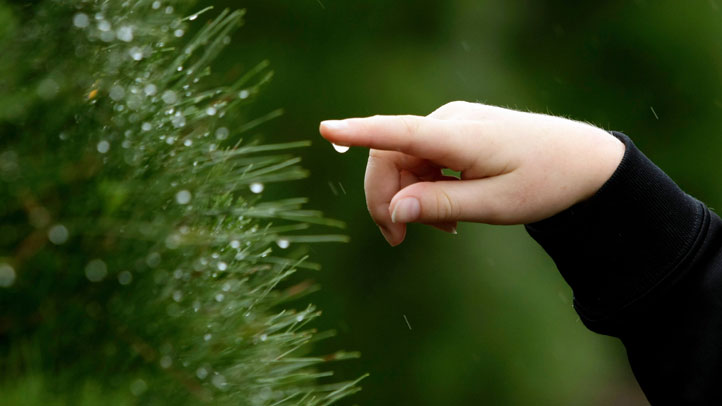 When the Family Christmas Tree Farm in El Cajon opens every year after Thanksgiving, the time of year is clear.
Christmas music is playing as employees tie ribbons on wreaths.
This is the traditional tree hunt.
"It's a family tradition in a lot of cases," said Richard Gass. "We've got the farm animals, got a little hay ride."
His loyal customers, like Lauren Wynglarz, agree. She's been doing it this way since she was a kid.
"My parents raised me like this," said Wynglarz. "And I want it to be the same for my kids because it's really just fun."
Before taking over the farm, Gass started working at the property off State Route 67 in 1972.
Today, there are about 10,000 trees growing on ten acres. Customers can hand pick and then hand cut the one they want to bring home.
Of course as the number of trees has grown over the years, so have the number of options for potential customers.
"I probably can't price my trees at the same price as a Home Depot or a Costco," admits Gass.
Cut to option two where a big rig from Oregon has just pulled up outside a Mission Valley Costco loaded with noble firs. It's the second truck in a week.
Big box stores are increasingly establishing roots in the tree game.
Sears has started delivering trees to customers' homes.
Costco in Mission Valley is selling about 100 trees per day. General Manager Pat Gaffney admits this is far from the traditional experience you'll find at The Family Tree Farm, but he says convenience and price are exactly what a lot of people want this busy time of year.
"You're already here shopping, and you can pick it up," said Gaffney. "Costco is known for value. We've got the 7-8 foot noble firs here for $44.99, and you really can't touch that price."
Then there's a third option for those who would prefer to rent a tree. One San Diego company uses singing elves to deliver live potted trees that can be ordered on line.
"32-million trees every season in the U.S. alone get chopped down just for the holidays," said Christine McDannell who owns the Adopt a Christmas Tree company.
After the holidays are over, her customers have the option of keeping their tree and planting it in their own yard, or having it picked up and replanted somewhere in the county.
"Well, this is that third option where they know that it's going to go back into the earth after the holiday," said McDannell. "A lot of our clients mainly wouldn't have a tree otherwise."
The fourth option is the artificial tree. According to a survey by the website couponcabin.com, 54 percent of adults in the U.S. say they plan to use or buy an artificial tree this year.
Back at the Family Christmas Tree Farm Richard Gass says he's seen most of San Diego's self-cut tree lots disappear over the years, partly due to an increase in expenses.
"The water cost today is driving us kind of crazy," he said.
Still, Gass says he plans to keep doing this every year until he retires.
As for which option is best, it just depends on priorities. Whether its experience, environment, or economics, the common theme here is that this is a symbol of the season, no matter where it comes from.