A teenage driver was airlifted to a trauma center after crashing into a tree in Oceanside Sunday night.
The Toyota Corolla was wrapped around the tree on Frazee Road near Oleander Drive, just north of State Route 76 with the 18-year-old driver still trapped inside.
An off-duty paramedic from San Bernardino County was passing by the scene around 8 p.m. and got into the car to help the driver until officers and fire crews arrived, Oceanside police said.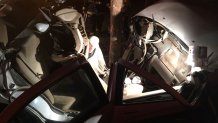 Officers said when the car hit the tree, the driver side of the vehicle took the brunt of the impact, causing the vehicle to collapse in on the young man's lower torso.
It took rescue crews more than half an hour to get him out, according to police.
He was treated on the scene before being airlifted to Scripps La Jolla's trauma center where his condition remained unknown Monday.
It took 16 firefighters to extract the man from the vehicle. The cause of the crash is being investigated.