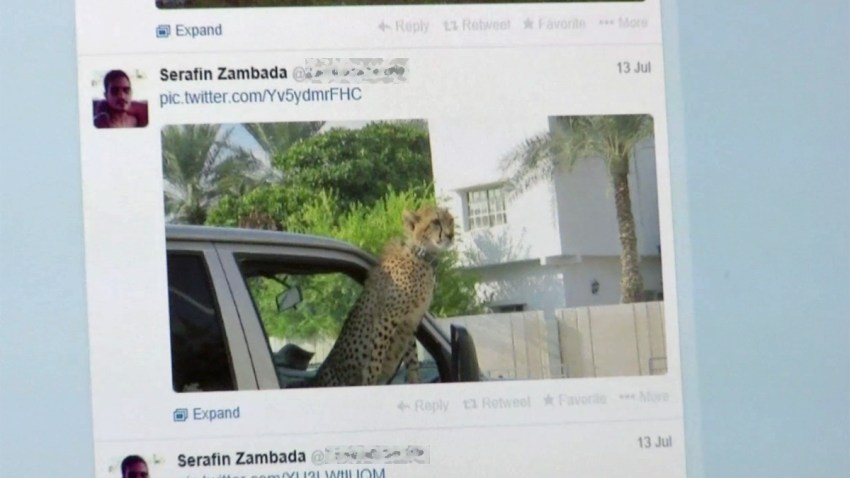 The children of Mexico's most notorious outlaws seem to be posting photos on social media of their lavish and illegal lifestyles.
Some of the pictures include bundles of cartel cash, luxury cars, pet cheetahs and tigers and even a human body.
One of the Twitter pages appears to be of 23-year-old Serafin Zambada-Ortiz, who was arrested on November 20 at the Nogales, Ariz. Port of Entry while attempting to enter the United States.
Zambada is the son of Sinaloa Cartel leader Ismael Zambada-Garcia, aka Mayo. The Sinaloa Cartel is known as one of the most powerful drug trafficking organizations in the world.
On the Twitter page, there are pictures of bags of marijuana and piles of gifts on luxury cars. One picture of gold and silver-plated assault rifles has a caption that reads, "Partying as always...taking care of us."
Alfredo Guzmán appears to be one of Zambada's Twitter followers. Guzmán is one of the sons of Joaquín Guzmán Loera, aka "El Chapo." El Chapo is the head of the Sinaloa Cartel and is considered by Forbes magazine to be the "biggest drug lord of all time."
To more than 19,000 followers, it seems Guzmán posted a threat. It is a picture of a body with the message, "They sent me the picture of the guy trying to pass as my friend."
Criminal Defense Attorney Knut Johnson said although over-the-top, these kinds of actions cut across all sorts of cases and conduct.
"You see people getting in fights, beating someone up, and they post the video online. That's no different really," Johnson explained.
Johnson said, for prosecutors, pictures like the ones posted aren't necessarily smoking guns.
"They have to do a fair amount of work to show that it's not another person using the same name or imitating them or a parody page," he said.
If these Twitter pages are legitimate, it appears the children of some of the world's most wanted and most secretive are being, at best, indiscreet.