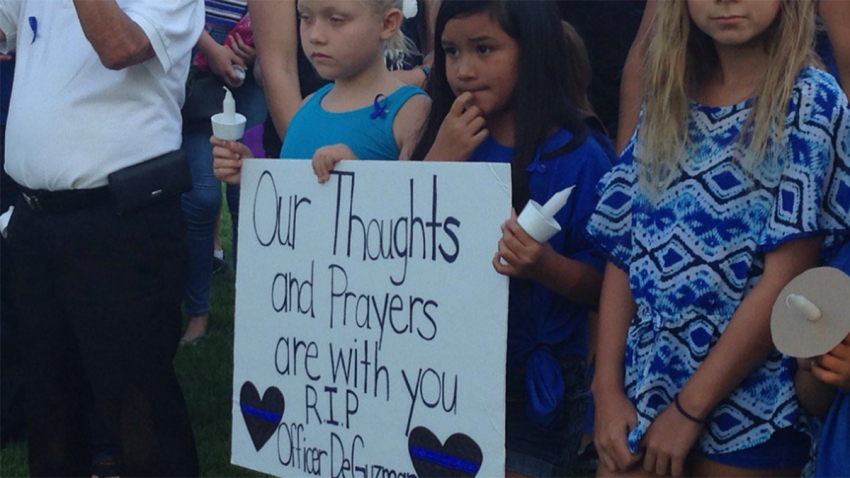 As candles flickered and tears flowed for slain San Diego police officer Jonathan "JD" De Guzman, Chula Vista's mayor and the community wrapped his widow in a collective embrace Sunday evening.
"She's not alone. We're all here for her. We're family," police officer Arlen Ambito said.
Mourners dressed in blue in solidarity with De Guzman's family to show they are not alone, and to remember the many sacrifices De Guzman made before his 'end of watch' last week.
Clinging to a portrait of De Guzman, his cousin Joseph Malabanan spoke about De Guzman leaving the Philippines for the United States 20 years ago. Though he had to learn the language, he wanted to protect and serve his adopted country.
"He was a community man, wanted to help out and loved the children," Malabanan told NBC 7.
De Guzman, an officer in the San Diego Police Department's gang suppression unit, was gunned down by a suspect during a traffic stop in Southcrest late Thursday night. His partner Wade Irwin, who was also shot, is now recovering in the hospital and is expected to survive.
Chula Vista's police chief, David Bejarano, formerly San Diego's police chief, brought a replica badge of the one he pinned on De Guzman when he hired him 16 years ago.
"[There] wasn't an ounce of hate in him," he said. "His character, his integrity and passion [was] to serve the community," Bejarano said.
The 43-year-old decorated officer was described as a devoted husband and father of two who actively helped out in various clubs at his daughters' school.
"He's working even after death," Chula Vista resident Judy Dellosa said. "[He's] bringing the community together just showing [his] family they're not alone. That's a wonderful thing. His death is not in vain."
De Guzman's funeral mass and public memorial service are scheduled for next Thursday.