In a ploy that included a diversion and a couple of quick moves, three men managed to steal $4,000 in Visa gift cards from a Walmart in Santee last month.
The San Diego County Sheriff's Department (SDSO) released photos Thursday of the trio involved in the Oct. 25 heist at a Walmart located at 170 Town Center Parkway.
Investigators said the burglary and grand theft suspects picked up eight Visa gift cards and asked a cashier to load each one with $500.
As they pretended to check out, one of the men distracted the cashier by asking her to grab some cigarettes. While the cashier left her register, another suspect reached around the register and pushed a button that loaded each card with $500, the SDSO said.
Then, the third suspect grabbed the Walmart bag containing the gift cards and other merchandise and the trio fled the store with the stolen goods. They were last seen leaving the parking lot in an older model Ford Crown Victoria with no license plates, a white front left fender and purple tinted windows.
The SDSO said the total loss was approximately $4,065. No one was hurt.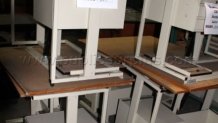 Investigators said the suspects are all described as being in their 20s. The suspect who asked for the cigarettes wore a white Adidas shirt, black shorts, white socks and sandals. The man who pressed the button on the cash register also wore a white Adidas shirt, paired with black pants and white shoes. The third suspect wore a white Nike shirt, black shorts, white socks and sandals.
They remain at large.
Anyone with information on the suspects can call the SDSO's Santee Station at (619) 956-4000 or the Crime Stoppers anonymous tip line at (888) 580-8477.