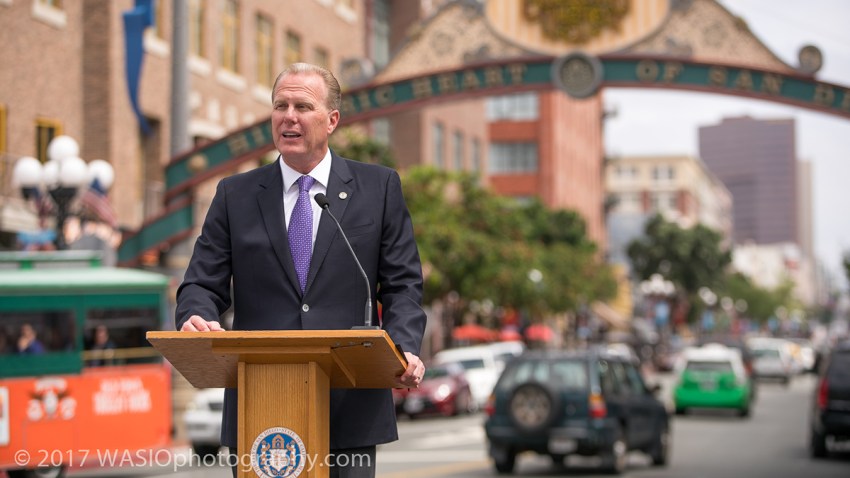 From a chip shipping boom for Qualcomm Inc., to the 150th anniversary of downtown San Diego's Gaslamp Quarter, here's a look at some of the stories that shaped our Local Business Spotlight and San Diego Scene this week.
Qualcomm Ships More Than 1 Million Chips Per Day
San Diego-based giant, Qualcomm Inc., said the company is shipping more than 1 million chips every day for a wide range of connected devices in what's known as the "internet of things." This includes chips for devices like wearables, connected TVs, cameras, drones and home automation devices.
Downtown's Gaslamp Quarter Turns 150
Downtown's Gaslamp Quarter hits a milestone this year: its 150th anniversary. On May 24, San Diego Mayor Kevin Faulconer delivered a proclamation marking the special occasion. Over the next few months, the Gaslamp Quarter will keep the party going with special events showcasing the history of the landmark neighborhood developed by Alonzo Horton in the 19th century.

[[424412563,C]]
Grocery Outlet Opens in City Heights
A new Grocery Outlet Bargain Market opened to the public this week in City Heights, at 4360 54th St. The grand opening celebration is happening on Saturday and will include deals, prizes and treats. This location is owned and operated by a San Diego native who grew up right in the neighborhood where he will now run his business, hoping to find ways to use his business to give back to his community.
[[424418993,C]]
'Balboa Park After Dark' Shines On
Balboa Park will once again "come alive after five" this summer as the landmark brings back its popular program – "Balboa Park After Dark" – offering special nighttime attractions and deals. The program runs every Friday, from May 26 through Sept. 4, from about 5 p.m. to 8 p.m. On those nights, there will be extended hours at eight museums in the park, plus food trucks and entertainment to light up the night.
[[418550033,C]]
Port District Starts Summer Waterfront Shuttle Service
The Unified Port of San Diego has brought back its summer waterfront shuttle service, running daily now through Sept. 4. The regular rate for the shuttle bus is $3 per person for unlimited all-day rides. There's also a way to score a deal on a $1 ticket.