A group of keepers at the San Diego Zoo are moonlighting as divers, forming a team that will help care for a new seawater habitat that will be home to penguins, fish and, eventually, leopard sharks.
The San Diego Zoo said the dive team – the first of its kind in the zoo's history – is comprised of a team of reptile zookeepers that have been training since January. The team will care for the 200,000-gallon pool in the "Penguin Beach" section of the zoo's new "Conrad Prebys Africa Rocks" exhibit, which opens this summer.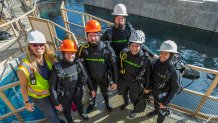 Twenty African penguins will live in the habitat, the zoo said, plus a variety of fish. Eventually, bottom-dwelling California leopard sharks will join the pool party.
The divers will inspect the exhibit and move the leopard sharks into a holding pool for exams and observation. They will also perform regular visual exams on the animals and help take care of their medical or behavioral needs.
Divers will work in teams of four, with two divers entering the pool at a time while the other two watch from a walkway above. The zoo said there's also a "Designated Person in Charge" (DPIC) on the team, and that person will supervise emergency situations.
According to the San Diego Zoo, the Penguin Beach exhibit will help increase breeding efforts of endangered African penguins in North America. In time, the colony there will grow.
[G] San Diego's Cutest Critters
The African penguin has suffered an enormous population decline, from about 1 million breeding pairs to only 25,000 breeding pairs today, the zoo said. This is due to a variety of factors including a lack of fish to eat due to overfishing, climate change, oil and marine pollution, and habitat degradation, the zoo said. Predation by seals, sharks, and land-based predators has also contributed.
The first phase of "Africa Rocks" – including the Penguin Beach habitat – opens to the public on July 1. Five additional habitats – "Madagascar Forest," "Ethiopian Highlands," "West African Forest," "Acacia Woodland," and "Kopje" – will open phase-by-phase throughout the season.