Ramon "Chunky" Sanchez, a musician and cultural leader of San Diego's Chicano community, has died, his daughter announced on social media early Saturday.
Sanchez's eldest daughter, Ixcatli Sanchez, posted the news of her father's death on Facebook, writing, in part: "it is with indescribable emotion that on 10/28/16 my Pops began his next journey in his phase we call life."
Ixcatli's post said the family is requesting privacy as they make funeral arrangements for the beloved singer and Chicano icon. She did not mention her father's cause of death.
Many San Diegans, including the Chicano Studies Department at San Diego Mesa College and Assemblywoman Lorena Gonzalez, took to social media after Sanchez's passing to express their admiration for him and send condolences to his family.
NBC 7 spoke with some of Sanchez's family friends Saturday at Chicano Park. They expressed deep grief over the loss of the beloved Chicano icon.
"I really cried for Chunky [because] he had a big influence in my life," Michael Arenas told NBC 7. "He was a hero to me because he taught me something, a life lesson that I will always carry: to fight for what's right and to never give up."
A longtime resident of San Diego, Sanchez attended San Diego State University and considered himself a "barrio-ologist," and was known by many in the Chicano community as a "hero of the barrio."
He wrote the song "Chicano Park Samba" – about the culture, spirit and struggle of Chicanos – for Chicano Park, a colorful, mural-filled cultural landmark under the Coronado Bay Bridge that was designated a park in 1970. The song narrates the struggle for the creation of Chicano Park and has become an anthem for the Barrio Logan community.

"With Chunky's influence, we have a park – we have this beautiful park. And not just the Raza, we invite the whole community, the whole county of San Diego to enjoy this park," said Arenas.
After his passing, the website of the Chicano Park Steering Committee, the group that oversees Chicano Park, dedicated its homepage to Sanchez, posting a tribute along with his photograph and the phrase: "Chunky Sanchez, Presente!"
Sanchez was popular throughout San Diego for his visits to many local schools, where he spoke to classes and sang to children.
"He's always been full of wisdom for us. If you go to any school around here they all know who Chunky is. You ask them who Chunky is and you'll get a big reaction," Arenas told NBC 7.
Family friend Noni Samano said Sanchez was known for his passion to give back to the community and to speak the truth.
"When he sang, he sang about the people. He sang about the community. He did a lot for the kids; he went to the schools and would sing for the kids."
Sanchez was born in Blythe, California, to Mexican immigrant parents, both of whom were farm laborers. Growing up, he also worked as a farm laborer while he perfected his musical talents and learned to compose his own songs, which became known for their political messages in the Chicano community. Sanchez often performed at rallies and marches for the United Farm Workers Union, many times at the request of César Chávez.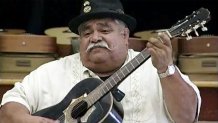 "He was involved with César Chávez so much that when César Chávez marched, he always called for Chunky because he loved Chunky's music," Arenas explained. "No matter where he was at, he would call Chunky to come play with him at his marches and Chunky would drop what he was doing to go and play with him."
Over the years, he performed in musical groups, including La Rondalla Amerindia de Aztlan and Los Alacranes. He received many awards over his lifetime, including several from the California Arts Council and the City of San Diego Commission on Arts and Culture, as well as the César Chávez Humanitarian Award. In 2013, Sanchez was named a National Heritage Fellow by the National Endowment for the Arts (NEA).
The musician is the subject of a documentary film by Paul Espinosa, currently in post-production, titled, "Singing My Way to Freedom."
"If you want to learn more about the Chicano community, you need to listen to Chunky's music," said Samano. "His heart and soul was in the community."
In late November 2010, Sanchez lost his youngest son, Fernando Julio Sanchez, 25, to a crash on Highway 138 in Gorman, California. Sanchez is survived by several other children and more than a dozen grandchildren.
The community leader's birthday is on Sunday. He would have turned 65.
Arenas told NBC 7 he will forever carry the legacy and lessons of Sanchez in his heart.
"Another thing that he always told us: the most dangerous Chicano was not a gangster. It was to be an educated Chicano," Arenas recounted. "Chunky has taught us to never give up and always move forward. Forever love, Chunky. Arriba."
"We're going to miss him. This is a great loss," Samano told NBC 7. "He's an activist and he got out and he did things. He didn't just talk about it. He was action."
In addition to his loved ones, many San Diegans and groups, including the Chicano Studies Department at San Diego Mesa College, took to social media after Sanchez's passing to express their admiration for him and send condolences to his family.