A San Diego man who was among the non-residents arrested in violent clashes with police in Ferguson, Missouri said he is there to do whatever he can to minimize loss of life.
"My intent is to witness and bring peace with my witness," Parker Jaques of La Mesa told NBC 7.
Tear gas and flash grenades were fired into crowds of protesters in the streets of Ferguson Monday night as violence continued in the aftermath of a deadly officer-involved shooting of 18-year-old Michael Brown.
Jail records indicate Lorenz Parker of San Diego was arrested Monday as one of 18 people from outside Missouri who will face charges of failing to disperse NBC News reports.
However, Parker Jaques contacted NBC 7 Tuesday afternoon to correct his name and to update that he was not charged before his release.
Jaques decided Saturday night that he needed to join the movement in Ferguson.
He arrived in St Louis around 1:30 a.m. Monday with the goal to witness what was happening there and to provide support for a community he was drawn to help.
"It's peaceful, it's friendly and anyone who can be here, should," he said.
He has essentially been handing out bandages and water to protesters.
Then, Monday afternoon, he was with a group of protesters talking to local business owners when he was arrested.
"A bunch of cops swooped in and took us," he explained adding that the group wasn't warned ahead of time.
He did not resist arrest, he said, because his purpose there was to be peaceful. As he was talking to the officers, Jaques said it appeared the police were trying to discourage the non-residents from getting involved in the protests.
"What they're trying to do is get the people who are from out of state or out of town to leave so that they can go on abusing their own citizens without anyone seeing it," he claims.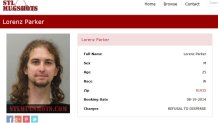 Several years ago, Jaques said he had a run-in with some police officers while suffering a seizure.
"I fought three cops like a man possessed," he recalls. "I deserved a good tasing." However, he said the officers showed compassion and restraint.
So when he heard of the shooting involving Brown, Jaques said he felt compelled to act.
"If Darren Wilson had exercised the same kind of judgment and compassion that he should do every day as a police officer Mike Brown wouldn't be lying in a casket and I wouldn't need to be here," he said.
Two others from California are among those arrested in Ferguson in the last 48 hours. They include Gregory Jeffries of San Francisco and Mickey Everett of Valencia, according to police jail records.
The National Guard and Missouri State Police have been brought in to quell the violent outbursts that have occurred almost every day since the Aug. 9 shooting.
Capt. Ron Johnson of the Missouri Highway Patrol said bottles and Molotov cocktails were thrown from the crowd and that some officers had come under heavy gunfire.
On Monday, President Barack Obama said the vast majority of protesters in Ferguson were peaceful, but warned that a small minority was undermining justice.
Copyright AP - Associated Press