A San Diego family of hikers stranded for days on Baja California's highest peak said there were times on that treacherous terrain when they weren't sure if they would come out of the ordeal alive – or if help was even coming.
"It was looking grim," Claire Fox, 25, told NBC 7 on Saturday. "It was definitely one of the best moments of my life knowing that we were going to come back [to San Diego] and see my mom."
"There were definitely times when we were scared for our safety," added her sister, Maura Fox, 20. "And all of us with our limited water; we were definitely concerned if we were going to be rescued – if people were coming."
Claire and Maura, and their father, Morgan Fox, 61, left for a hiking excursion in Baja California on June 20.
The trio planned to hike the challenging trail of San Pedro Mártir Park known as "Picacho del Diablo," or the Devil's Peak, located south of Tijuana and the U.S.-Mexico border.
At over 10,000 feet, it's the highest peak in Baja California.
[[431885793,C]]
Morgan's wife and the women's mother, Debbie Milligan-Fox, told NBC 7 on Friday that her husband was very familiar with the area, having hiked it four times prior. He had even made it to the summit of the Devil's Peak twice before.
Morgan had vowed he would one day take his daughters there.
"It's a pristine area, and I promised the girls that we would go down there and do a backpacking trip," he said. "That area of Baja California is one of the most beautiful areas in the world."

The father and his daughters were supposed to hike to the summit on June 23 and return to their home in San Diego's East County by June 25.
Their return date came and went.
Morgan said it had been 20 years since he descended into the canyon. The trail, he said, was not quite how he remembered it.
"The terrain had changed quite a bit, so I think that threw me off a little," Morgan told NBC 7. "And some of those small mistakes eventually led to the larger rescue operation."
When Debbie didn't hear from her family on June 25, she became concerned and contacted authorities in Mexico. By Monday afternoon, a search had been organized.
In those days they were stranded, Claire said they tried a few different routes to get themselves out of the canyon, to no avail. With their water and food supply diminishing, they had to make big moves.
"Our water supply was running low; we only had a few packets of oatmeal left," she said. "So my sister and I just made the decision that we want to make it to the top of this mountain so that we're visible to helicopters and a little more out in the open."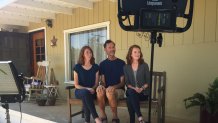 On Monday night, not knowing their fate, Maura said they went into survival mode, figuring out ways to let people know they were stranded on the trail.
"We got to the top, and we immediately made a fire – a signal fire," she explained. "My sister and I were just trying to get that prepared."
By Tuesday morning, Mexican authorities had 10 people searching along the remote trail. That same day, a helicopter spotted the trio stranded on a steep canyon off the trail.
Maura said their father had told them to bring reflective emergency blankets on the trip. She said those blankets were crucial in their rescue.
[[431318513,C]]
"Honestly, without the shiny safety blankets that my dad told us to bring, we wouldn't have been seen; so, that's my dad there," she said.
The helicopter dropped six liters of water to the Fox family. Search and rescue crews also delivered food, water, and a glucose meter, as Morgan has diabetes and needs insulin.
Radio communications between the search crew and the family were conducted from the air because the terrain was steep and rocky, and it was not safe for the helicopter to land.
The rescue proved challenging. Finally, rescuers on the ground were able to make contact with the trio.

The father and his daughters were taken to a base camp on San Pedro Martir Park at around 6 a.m. Thursday. They spent the night in a hotel; Morgan was taken to a hospital in Mexico but checked out in good health.
[[432013973,C]]
By Saturday, they were back in San Diego, grateful to be alive, together.
"We experienced a lot together," said Claire. "I'm glad we were all together; strong family unit."
"Strong before – now it's stronger," Maura chimed in.
"We're glad to have our mom back with us," Claire added.
"We're a group of four – it needs to be like that," Maura said.
Morgan nodded his head, looking at his daughters with pride.
"These girls did so good," said Morgan. He hugged his daughters close and fought back the tears.
Morgan said he will forever be grateful to the volunteers in northern Baja who came to their aid.
[[431135903,C]]
"We want to express all of our gratitude for all the hard work and effort," he said.
"We owe our lives to the Mexican people," Maura added. "And, in a politicized time, I think community and family – that's really at the heart of everything. I think, if anything, the connection between our two nations should be even stronger."
"I can't wait to get back down and share a meal with all of them," said Claire.
[[431132743,C]]
The Fox family said that perhaps one day, they will set out on that hike again and finish the trek successfully. Claire said some of the rescuers in Mexico even offered to hike with them next time.
"So next time we'll bring our new friends and we'll definitely be hiking; it's something we love," she said.
"I am eager to get down there and finish the hike we always intended," added Maura.
For now, they're happy to be home.