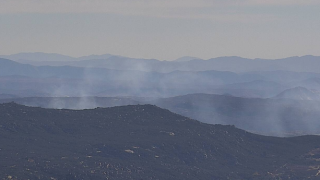 Firefighters were called out to a brush fire in remote East County on Wednesday afternoon, officials said
Cal Fire crews arrived at the blaze, which is in Bell Valley, north of state Route 94 and east of Volmer Lane and west of Campo, around 2:30 p.m.
The so-called Border Fire burned in rugged terrain at a moderate rate of spread, according to Cal Fire. It's not known if any structures were damaged.
Ground crews and aerial assets combined to make quick work of the fire, though. Just 20 minutes later, Cal Fire said the spread of the fire had been stopped, with the flames charring 12 acres in total. Firefighters are expected to be on scene for much of the afternoon, putting out hot spots.