A Poway man, accused of defrauding more than 50 people out of millions of dollars, is expected to face a judge Friday afternoon in San Diego Superior Court.
NBC 7 Investigates broke the story on March 22 concerning Christopher Dougherty who several investors say offered an investment opportunity in an organic beef ranch in Alpine as well as housing projects and a marijuana cultivation plan as another solid investment.
However, as NBC 7 Investigates uncovered, investors were still waiting years later for any return on millions they invested with Dougherty.
District Attorney Summer Stephan announced an 82-count criminal complaint Friday against an unlicensed Poway investment advisor accused of running "a classic Ponzi scheme" that defrauded 31 families of nearly $8 million.
Christopher Dougherty, 46, faces 35 years in state prison if convicted of multiple counts of grand theft, fraud and financial elder abuse.
D.A. Stephan said the case against Dougherty was the result of an intense investigative effort by her office, the San Diego County Sheriff's Department, the state Department of Insurance, the federal Securities and Exchange Commission, and other law enforcement agencies.
"The defendant stole millions of dollars from trusting families and senior citizens," Stephan said. "These aren't rich investors. They're people who worked hard and trusted their life savings with someone who preyed upon their vulnerabilities."
"Dougherty's criminal enterprise is callous and indefensible," said Insurance Commissioner Ricardo Lara. "Crimes against the elderly are especially reprehensible."
The criminal complaint against Dougherty includes details about his alleged financial scam that were documented in a series of recent reports by NBC 7 Investigates.
Prosecutors confirmed that Dougherty used money from new investors to pay existing investors who demanded some or all of the cash back.
That alleged Ponzi scheme eventually collapsed, and Dougherty filed for bankruptcy protection.
Investigators also said Dougherty used investor funds for personal expenses, including a home remodel, travel, college tuition and large cash withdrawals.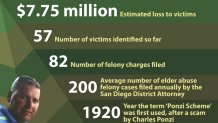 Brian Lee Taylor, who with his wife lost $340,000 to Dougherty, said he hopes they'll get some of that money back.
"But if I don't get a penny back, I hope he goes to jail," Taylor told NBC 7 Investigates. "He's got to be tried criminally because of what he's done. This is criminal."
Authorities confirmed that Dougherty met some of the victims when he was designated as an "investment advisor" for the employees of several local school districts, including the Sweetwater Union High School District and the Imperial and El Centro Unified School Districts.
Dougherty made his first court appearance Friday afternoon, three hours after authorities announced the charges against him.
He was transported to the courthouse from county jail, where he's being held on $5 million bail.
Dougherty was represented by a public defender who entered not guilty pleas to the charges on Dougherty's behalf.
He faces a preliminary hearing in May. More details about his alleged scam will be revealed at that week-long public hearing.
The district attorney's office has identified 26 other possible victims.
Investigators urged anyone who believes they have been victimized by Dougherty to contact the state Department of Insurance at 858-693-7100.
Prosecutors said Dougherty exploited the trusting relationship he developed with long-standing clients by persuading them to cash out of conventional investments and move their money into his private investments, including a 100-acre "organic" cattle ranch in Alpine, that did not generate any real profit for investors.
District Attorney Stephan urged investors to watch for the warning signs of a Ponzi scheme, including:
Lucrative, above-average investment returns with little or no risk
Unregistered investments
Unlicensed sellers
Secretive and/or complex investment strategies
Difficulty receiving payments from an investment advisor
"Increasingly, we are uncovering complex financial scams that target seniors and other vulnerable California communities and consumers," said Insurance Commissioner Lara.