Deputies are searching for a man accused of stealing more than $7,000 worth of cellphones from store display counters across San Diego in a month-long scheme.
The San Diego County Sheriff's Department released photos Tuesday of an unknown man wanted for targeting cellphone stores between June 16 and July 17.
According to investigators, the suspect last struck on July 17 at a T-Mobile store located at 13369 Poway Rd., stealing an iPhone 6 Plus. That same day, the suspect entered an AT&T store at 136 Solana Hills Dr. in Solana Beach and nabbed two iPhone 6 devices.
Detectives say his strategy is always the same: he steals phones from display counters, and in some cases has cut the security cords that attach the phones to the counters.
Investigators said the suspect also hit a Verizon store at 7035 Clairemont Mesa Blvd. on July 15 and made off with a big haul: a total of five cellphones. During this incident, he was seen with a possible accomplice.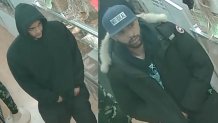 In June, detectives said the suspect stole phones from at least two stores – one on June 17 from a business in Mid-City and the other on June 16 from a store in Chula Vista.
In at least one of the thefts, the suspect was spotted driving away in a red 2012 four-door Toyota Corolla, detectives said.
The cellphone bandit is described as a white man between 20 and 35 years old. He stands between 5-foot-10 and 6-feet-tall, and weighs between 170 and 180 pounds. In two cases, he wore a red baseball hat, red shirt, black shorts and tennis shoes.
The investigation is ongoing. Anyone with information on the suspect's identity or whereabouts should contact the Poway Sheriff's Station at (858) 513-2800 or Crime Stoppers at (888) 580-8477. Tipsters can remain anonymous and may be eligible for a $1,000 reward for information leading to an arrest in this case.