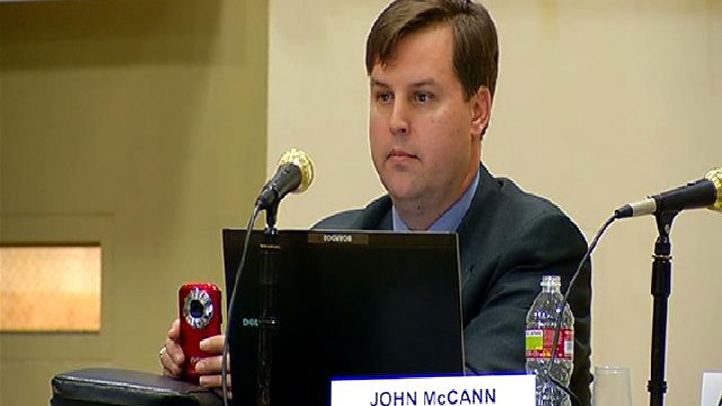 The near-fatal crash involving Sweetwater trustee John McCann was caused by another vehicle traveling 87 mph in a 45 mph zone, according to Chula Vista Police.
The South Bay school official nearly died after a July 24 collision on Telegraph Canyon Road at the intersection of Old Telegraph Canyon Road.
"It potentially could have winded up in a fatality if he had been driving any faster," McCann said.
McCann, 45, sustained a head injury in the crash and was taken by ambulance to UCSD Medical Center. He is returning to his work on the school board at Monday night's meeting, but continues rehabilitation therapy for his injuries.
The driver of the other vehicle, Martin Duncan, a 50-year-old Chula Vista resident, sustained a small laceration to his right forearm and complained of pain to his back and knee. He was taken by ambulance to Scripps Hospital.
The investigation report has not yet been released, but a spokesman from the Chula Vista Police Department confirmed the cause of the crash was determined to be Duncan driving at an unsafe speed.
Traffic investigators used data from the "black box" in Duncan's crashed 2011 gray Dodge Challenger to determine what caused the accident. Similar to a flight cockpit recorder, the device is officially called an Event Data Recorder -EDS. It records everything that is happening in a car and can help investigators determine what was happening milliseconds prior to a collision.
A reenactment of the crash determined that if Duncan had been traveling at the posted speed limit, McCann would have been able to safely turn left across Telegraph Canyon Road from Old Telegraph Canyon Road.
Data from the "black box" in McCann's 2006 white Saturn SL Normal 0 false false false EN-US X-NONE X-NONE MicrosoftInternetExplorer4 showed he didn't try to "punch it" to beat Duncan during his turn, police said.
"Mr. McCann's turning movement was not an associated factor in the collision," Chula Vista Police Department Gary Wedge wrote in an email update about the crash investigation.
McCann served two terms as a councilman on the Chula Vista City Council after being elected in 2002. He was elected as a Sweetwater trustee in 2010.
He also serves as a U.S. Navy reserve officer and was deployed to Mosul, Iraq in 2009-2010 and for a month to the Korean peninsula in 2013.