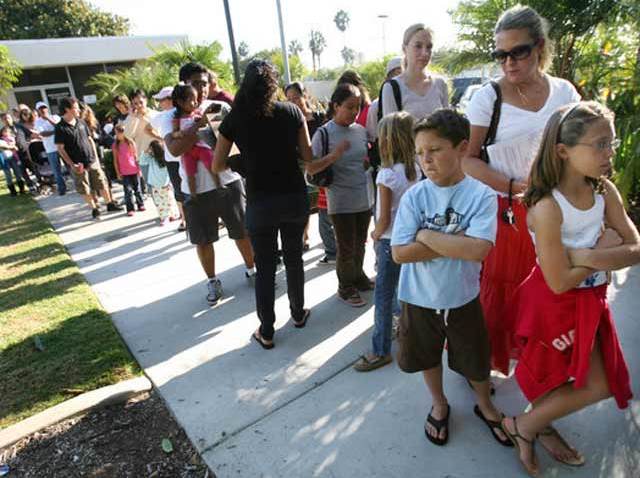 Patients lined up at San Diego county clinics this weekend to get the swine flu vaccine after a second shipment arrived late last week.
About 6,800 people waited up to two hours to get the vaccine at centers in Oceanside, Escondido and elsewhere around the county, according to the North County Times.
The busiest line was at the clinic in Kearny Mesa where some people waiting in line for three hours, according to County Public Health Officer Dr. Wilma Wooten. For most patients in the county, the wait time averaged an hour and a half.
San Diego County Health and Human Services Agency announced the shipment Friday afternoon with a list of centers that began distributing the vaccines immediately.
Patients lined up Saturday at the County's six public health centers and one vaccination clinic. Additional doses went to hospitals, community clinics and to healthcare emergency workers.
"We are not going to run out today," Wooten said Saturday. "We anticipate we will have enough to get through tomorrow's (Sunday's) clinic as well."
Health care providers, pregnant women and children (pre-school, elementary and middle school) as well as individuals who live in households with children younger than six months of age will receive priority when it comes to receiving the vaccine.
There are six County Public Health Centers and one County Immunization Clinic. These seven locations are located throughout San Diego County. The H1N1 flu vaccine is available at these locations for people in the high risk groups for complications from H1N1 flu.
The county suggests that you call your primary care provider to get an H1N1 Influenza vaccine. If your primary care physician did not order vaccine or you do not have a primary care doctor, H1N1 vaccine can be obtained at the below locations:
PublicHealth Center- Central Region
5202 University Avenue
San Diego, CA 92105
Phone: (619) 229-5400
VIP Immunizations Clinic
3177A Ocean View Boulevard
San Diego, CA 92113
Phone: (619) 231-9300
Public Health Center – East
855 E. Madison
El Cajon, CA 92021
Phone: (619) 441-6500
Public Health Center- North Central
5055 Ruffin Road
San Diego, CA 92123
Phone: (858) 573-7300
Public Health Center- North Coastal
104 S. Barnes
Oceanside, CA 92054
Phone: (760) 967-4401
Public Health Center- North Inland
606 East Valley Parkway
Escondido, CA 92025
Phone: (760) 740-4000
Public Health Center - South
690 Oxford Street
Chula Vista, CA 91911
Phone: (619) 409-3110
Hours 9:00 a.m. – 4:00 p.m. Saturday, October 24 and Sunday, October 25, 2009.*
Hours 8:00 a.m. – 6:00 p.m. Monday, October 26 through Friday, October 30, 2009*
*Subsequent hours will be determined based on demand. For more info, visit www.sdiz.org or call 211.