An Old Town Trolley was dedicated Wednesday to a former local Navy SEAL who died last year from an aggressive form of liver cancer.
Greg McPartlin, 69, toured Vietnam twice and was known by his peers as "The Navy SEAL who wanted to heal, not kill."
McPartlin was well-known in the Coronado community, where he owned McP's Irish Pub, a favorite off-duty hangout among Navy SEALS since 1982.
Fittingly, Wednesday's trolley christening ceremony took place in the parking lot of McPartlin's pub. The former SEAL's family and friends were there, as well as Richard Bailey, the Mayor of Coronado.
"Today is definitely a day of mixed emotions and it's definitely an honor that Old Town Trolley has a trolley in his name," McPartlin's daughter, Jessica McPartlin, said. "He's our hero and today is just a great day to honor his legacy, we're missing him so much."
The Greg McPartlin Trolley displays McPartlin's name on the front and will be wrapped in an American flag design. This particular trolley will be used for all military functions and parades throughout San Diego County.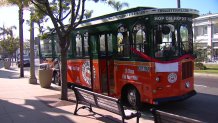 More than 35 Old Town Trolleys operate throughout San Diego. All are named for famous men and women who have contributed to the history of the city.
This is the third trolley dedicated to a Coronado resident. The other two trolleys are named after philanthropists: J.D. Spreckels and war hero Admiral James Stockdale.
McPartlin is survived by his wife of 35 years, five children and four grandchildren.