A total of 15 people who were involved in a smuggling attempt in an Encinitas Beach have been arrested, according to U.S. Customs and Border Protection (CBP).
The "pleasure craft" was first spotted by a lifeguard tower at around 3:30 p.m. at Beacons Beach Friday.
Witnesses reported 11 people running along the beach and two people climbing up the cliffs, said Justin J. Castrejon, a U.S. Border Patrol spokesperson.
"This is unusual for broad daylight coming up on the beach," said Encinitas Lifeguard Capt. Larry Giles. "They brought the boat and beached it right up, in very shallow waters, stepped out of the boat, then fled off the beach on foot."
After arriving at the scene, CBP agents discovered 13 lifejackets and some empty fuel containers inside the vessel.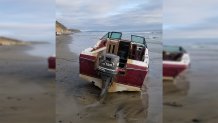 CPB agents assigned to maritime smuggling followed leads and located the suspects. Before the end of the night, seven smugglers, eight undocumented migrants, including a 27-year-old female Mexican national, and seven male Mexican nationals ages 22 to 39 were arrested.
The 15 people arrested included some of the getaway car drivers, Castrejon said.
"We understand why they're doing it, but we also want them to understand the risks they are taking," Lee said. "They're exposing themselves to elements, in this case, the ocean, and they're exposing their lives in the hands of the smuggler who doesn't care for them, and then other risks once they land on shore."
Four U.S. citizens and three Mexican nationals are being charged with felony alien smuggling and the eight smuggled Mexican nationals will be processed for removal from the U.S., Castrejon said.
No injuries were reported.
No other information was available.
Please refresh this page for updates on this story. Details may change as more information becomes available.