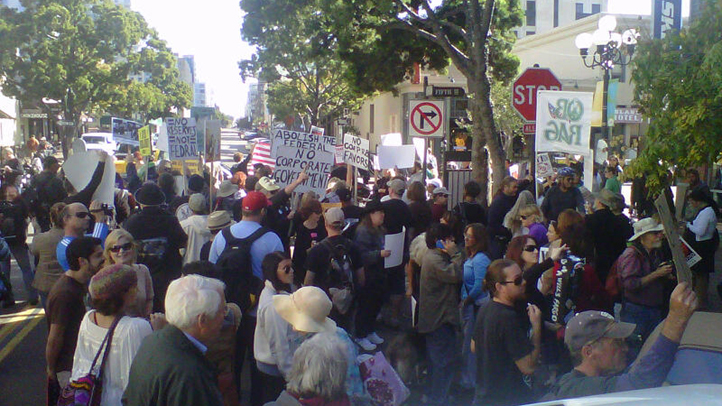 Protesters with Occupy San Diego held a mock funeral march for banks through the streets of downtown San Diego on Saturday as a nation-wide movement asked Americans to switch from large banks to credit unions.
The "Big Banks Funeral March" began at about 10:30 a.m. at the Civic Center, moving to Petco Park and ending at a Bank of America branch.
For Saturday's event, demonstrators made their down the streets of downtown San Diego chanting in a similar fashion to previous marches. Some wore masks, costumes and all black clothing, as others held signs reading "RIP".
Occupy members reported they would carry cardboard coffins, rose petals and candles as part of the demonstration as well.
"If we shift our funds from the for-profit banking institutions in favor of not-for-profit credit unions before this date, we will send a clear message that conscious consumers won't support companies with unethical business practices," said Occupy SD member, Kali Katt, in a media release.
"It's time to invest in local community growth," Katt added.
On Friday, many protesters seemed to have left their posts due to the heavy rain and cold weather.
As many as 75 percent
of the occupiers left the area, according to a woman at the scene.
Across the state, other Occupy groups have continued their demonstrations as well.
Our sister station,
NBC Bay Area,
reported Saturday that another veteran had been injured while demonstrating with Occupy Oakland protesters.
In Los Angeles,
NBC LA
is reporting protesters there may be helping to set a harmful precedent by being allowed to protest outside City Hall, possibly reducing public areas to nonstop protests.
Will you be transferring from a large bank to a credit union on Saturday? Let us know on Facebook or mention us @nbcsandiego on Twitter.