More U.S. teenagers value texting over face-to-face communication with their friends than they did six years ago, according to a new survey released by Common Sense.
Nine out of 10 teenagers own a smartphone and more are on Snapchat over Instagram or Facebook, the "Social Media, Social Life" survey reports.
The survey was organized by Common Sense Media as a way to compare how the average teen currently uses social media versus six years ago.
The first phase of the study was conducted in 2012 and surveyed more than 1,000 teenagers ages 13 to 17. The second phase was conducted in March and April with a separate sampling of more than 1,100 teenagers in the same age group.
In 2012, 49 percent of those surveyed said their favorite way to communicate with friends was face-to-face. Six years later, that number dropped to less than a third or 32 percent.
The first survey showed 68 percent of teenagers considered Facebook as their main social media site. In 2018, only 15 percent of those surveyed say the same thing.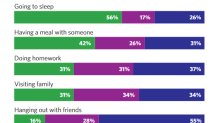 Researchers said 54 percent of the teenagers surveyed say they are often distracted by social media when they should be paying attention to the people they are with.
Nearly a third of teenagers who own smartphones said they have been awakened by a notification, call or text received overnight.
When it comes to parents using devices, 33 percent said they wished their parents would disconnect more often. That number was up 10 percentage points from the previous study.
Read the full study here.