Mayor Kevin Faulconer met with President Donald Trump in the Oval Office at the Commander in Chief's request.
Faulconer was in Washington D.C. and was scheduled for a regular meeting with the White House Intergovernmental Affairs team before President Trump requested the meeting in the oval office.
Faulconer's office said they met for about 20 minutes and discussed the United States-Mexico-Canada Agreement (USMCA), sewage flow from the Tijuana River Valley, and possible solutions to the issue of homelessness.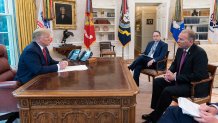 The meeting took place before Trump flew to Orlando where he officially kicked off his 2020 reelection campaign with a rally at the Amway Center.