California State University San Marcos (CSUSM) police warned students about a man who allegedly performed lewd acts on campus in front of two women.
The CSUSM police department sent out a safety notification on Monday about the incident, which took place at the Mangrum Track and Field.
"Given the circumstances and the time of day and the type of incident that it was described to be, the vast majority of our campus attendees, the majority are female, so I think it's prudent and I think it's due diligence to put that information out there," said Lt. Jesus Flores,CSUSM University Police Department.
Two women, who were not CSUSM students, were walking at the CSUSM Mangrum Track and Field on Monday night when they noticed a man masturbating near the pedestrian entrance to the track, according to CSUSM police.
The women told campus police that the man made a comment to them before they noticed him, said CSUSM police.
NBC 7 spoke with CSUSM students on Tuesday who were shocked and concerned by the incident.
"I just kinda feel bad for the people who found him, because that's kinda traumatizing, especially at night. I think it is a big deal, just because it is a university, and I feel like there should be some sort of security, and you should feel safe in this environment," said Sierra Roberson, CSUSM student.
"Shocked. I didn't think that something like that would happen in a public area. I did not expect that," said Victoria Arredondo, CSUSM student.
Arredondo added that she didn't like being scared but was happy to know that surveillance footage captured the suspect's photo.
"Even though it was scary and disturbing to hear, the fact that there are cameras, that made me feel better about coming here today," said Arredondo.
The man took off on his bike up a pedestrian ramp near the parking lot XYZ, according to CSUSM police.
Campus police shared these two photos of the suspect.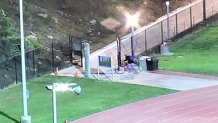 As of Tuesday night, CSUSM police were following up on leads in the area but didn't have any updates.
"We're putting forth every effort that we can in order to identify who this potential suspect might be," said Lt. Jesus Flores, CSUSM University Police Department.
CSUSM police asked students to report any information that could help in their investigation.