A man was arrested after he led police on a stolen car chase that ended in a crash in the South Bay, Saturday morning.
Officials received a call around 9:30 a.m. with reports of a man breaking into vehicles on 13th Street and Donax in Imperial Beach, the San Diego Sherrif's Department confirmed.
When deputies arrived on the scene, the suspect took off in a white Volvo SUV failing to stop for deputies. A helicopter was called to assist in the chase, SDSO confirmed.
The suspect then took deputies on a wild chase along Interstate 5 only to end up on the off-ramp to H Street where he lost control of the car and crashed into the bridge. He then took off on foot running down the off-ramp and onto the I-5 shoulder where he was arrested.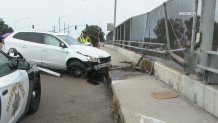 The suspect was identified by officials as Marc Tindugan, 25. He suffered minor injuries and was taken to a local hospital.
The car Tindugan was driving was later determined to be stolen, officials said.
During the pursuit, a deputy crashed into a car suffering minor injuries and was also taken to a local hospital.
Officials confirmed drugs were involved and Tindugan was charged with DUI among other charges.