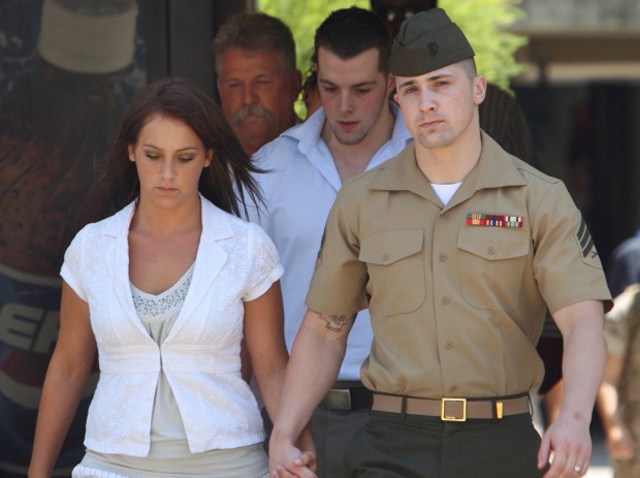 It was the only murder conviction the U.S. government had gotten in one of the highest-profile criminal cases against U.S. troops to arise out of the war in Iraq.

A military appeals court on Thursday overturned the murder conviction of Sgt. Lawrence Hutchins III. The Camp Pendleton Marine led a squad that included six Marines and one Navy corpsman who were also charged in connection with the April 2006 murder of Hashim Ibrahim Awad, 52, in the village of Hamdania.

The court said it based its decision on the fact that a military defense attorney assigned to Hutchins was improperly dismissed before his trial in 2007.

The ruling by the U.S. Navy-Marine Corps Court of Appeals in Washington sets the stage for the release of Hutchins.

The case is now back with the Navy Judge Advocate General's Corps, which will decide whether to appeal the decision or order a retrial.

Thad Coakley, a former Marine Corps judge advocate, said he believes the government will appeal.

"When you have a serious allegation that at least was substantiated at one point that this squad leader of Marines and a Navy corpsman kidnapped and executed an Iraqi detainee -- which is essentially murder -- if you don't pursue that, how do you show that you're holding Marines to a standard of accountability?" he said.

Coakley added that the court's "opinion makes no comment and therefore no judgment on the validity of the facts associated with this case. This opinion is focused upon a procedural error and a failure to maintain an attorney-client relationship."

Prosecutors said Hutchins led a squad that was on a mission to find an insurgent and when they failed to find the suspect at his home, the military men went to a nearby house and pulled out Awad, killed him and then planted an AK-47 and shovel to make Awad look like an insurgent planting a bomb.

Hutchins has been serving an 11-year sentence in a military prison in Leavenworth, Kan.

"Let's hope Larry can come home," his mother Kathy Hutchins said in a phone interview from Plymouth, Mass. "It's not like the charges can be dropped, there still can be a retrial, but we hope that he can come home and hold his daughter."

Hutchins, 26, has a 5-year-old daughter, Kylie. He learned of the court decision from his attorney, Marine Capt. S. Babu Kaza.

"He was surprised to get good news because it's really the first time it's happened since he got put in confinement," Kaza told the North County Times.

Kaza also told the paper he is highly doubtful that Hutchins will face a new trial. Recent comments by the secretary of the Navy regarding Hutchins' case and that of seven co-defendants has highly prejudiced any further legal action against him, Kaza told the paper.
"That's tainted the entire military justice system as it applies to Larry," Kaza said.

Hutchins -- the leader of the 3rd Battalion, 5th Marine Regiment squad -- was reduced in rank to private after his conviction. Thursday's ruling could restore him to the rank of sergeant.

Navy corpsman Petty Officer 3rd Class Melson J. Bacos of Franklin, Wis., pleaded guilty to kidnapping, conspiracy to kidnap and making false official statements. Marine Lance Cpl. John J. Jodka III, of Encinitas, Calif., pleaded guilty to aggravated assault and conspiracy to obstruct justice.

Marine Lance Cpl. Tyler A. Jackson, of Tracy, Calif., pleaded guilty to aggravated assault and conspiracy to obstruct justice. Marine Lance Cpl. Jerry E. Shumate Jr., of Matlock, Wash., pleaded guilty to aggravated assault and conspiracy to obstruct justice.

All will get either an honorable or general discharge. They have no recourse to appeal.

Three other defendants left the military after their prison terms ended.

Copyright AP - Associated Press