A Southern California man shot in the back during the Las Vegas massacre last month was reunited with the heroic off-duty firefighter who helped save his life.
Zack Mesker, 21, of San Marcos, was one of hundreds of victims shot at the outdoor Route 91 Harvest music festival in Las Vegas on Oct. 1. Gunman Stephen Paddock opened fire from his hotel room on the 32nd floor of The Mandalay Bay Hotel and Casino, raining down bullets on the crowd of 22,000 concertgoers. Fifty-eight people were killed and more than 500 were wounded.
Mesker's mom, Lorraine Mesker, told NBC 7 she got a call from her son's girlfriend, Lauren Kyander, that night.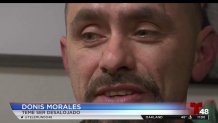 "I got a call about what had happened at the concert and that Zack had been hit," Mesker said. "He was in triage and they were asking her to run and leave the scene."
Kyander posted on Facebook that Meske had collapsed near the Tropicana hotel.
There, a hero stepped in to help him.
"When Zack collapsed, an off-duty firefighter helped him and never left his side until he got an ambulance," Kyander wrote on Facebook.
Cal Fire firefighter Chris Wetzel, of the Riverside County Fire Department, was at the concert that night. Wetzel, who lost a friend during the shooting, was off-duty at the time.
He told NBC 7 he does not consider himself a hero.
"I just saw people suffering and in pain, and it's all I could do," Wetzel wrote to NBC 7.
On Sunday, Wetzel and Mesker finally had the chance to reunite.
During the shooting, Mesker told Wetzel he was worried about losing his flip-flop. Wetzel brought him a new pair.
"He had lost a flip-flop when I was helping out and he said to me 'Wait my flip- flop,'" Wetzel wrote. "I told him 'Don't worry about the flip-flop, we gotta get you out of here.'"
Wetzel also said he wasn't sure how important the flip-flops were to Mesker, but he told himself if he ever reunited with Zack, he would get him another pair.
Mesker spent three weeks in a Las Vegas hospital before coming back home to San Diego County. He is currently back in San Marcos, recovering with his family and girlfriend.