Stefani McMahon says she is living in fear.
Her three-and-a-half-year-old daughter has cancer, and McMahon says without the Affordable Care Act she's not sure her daughter would be alive today.
"Complete fear," McMahon tells NBC 7. "Complete fear … for my daughter's life, fear for our family not being able to afford treatment, being turned down for treatment."
Under the Affordable Care Act (ACA), popularly known as Obamacare, patients cannot be turned down for pre-existing conditions, but if Republicans repeal the law without any replacement insurance companies would be able to turn away care for people with cancer – including McMahon's daughter.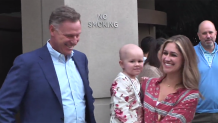 Because of the fears of so many people like McMahon, local Democratic Congressman Scott Peters and Congresswoman Susan Davis held a rally in San Diego Sunday to save Obamacare. They joined nationwide efforts to save the ACA, including a packed Michigan rally held by Vermont senator Bernie Sanders.
In keeping with a promise they've held since President Obama signed the law into effect, Republicans took key steps last week toward repealing it despite not yet having a replacement.
"They are scared to death of losing their care!" Rep. Davis exclaimed at the rally of the 128,000 people who they say could lose their coverage. Another 246,000 Medi-Cal recipients could also lose their coverage if the law is repealed.
"They should help Americans, not hurt Americans!" Rep. Peters said of Republicans who voted to repeal the law.
Congressman Peters joined the other Democrats and even a few Republicans who voted against last week's budget resolution to repeal the Affordable Care Act.
Peters and Davis called on bipartisan efforts to save the law Sunday. During the rally they met with health leaders and patients to discuss how repealing the ACA would hurt San Diegans.
The Affordable Care Act has given approximately 20 million more people health insurance, but has been plagued by rising premiums and large co-payments.
Republicans say the law is too costly, and they want to end the fines that enforce people to buy coverage. They also want to end requirements that companies must provide coverage to their workers.
President-elect Trump has vowed to repeal and replace the law with "something terrific," which leaves mothers like Stefani McMahon wondering what the future will look like for her family and her daughter.
"I mean she's three and a half years old," she said in frustration.