A vacationing couple was killed when a tree estimated to be 75 to 100 feet tall crushed their short-term vacation rental in the Point Loma Heights neighborhood of San Diego on Monday.
The tree with a trunk about as wide as a person landed on the home at the intersection of Santa Monica Avenue and Santa Barbara Street near Ocean Beach.
Troy and Jessica Nelson were believed to be sleeping in a bed on the upper floor when the tree came down at about 6:15 a.m., according to San Diego police Lt. Christian Sharp.
The Nelsons, owners of Trojan Promotions were visiting San Diego from Grand Forks, North Dakota after spending a couple of days in Long Beach for a weekend industry trade show. The couple was renting the home through a home-sharing app, according to SDPD.
Troy's sister Tammy Reynolds described the couple as nearly inseparable and said the two finished each other's sentences.
Jessica Nelson's brother, Ryan Langerud, was in a downstairs room when the tree fell. San Diego Fire-Rescue crews said they were able to get Langerud out and he was not injured.
Reynolds said Langerud called her parents shortly after the accident and explained what happened.
She and others in the family were shocked when they learned how the Nelsons died. Reynolds said she had read in articles that the tree was an accident waiting to happen and couldn't understand why the tree was allowed to grow so large so close to homes.
"That's the part where most of our family members are like, 'Really?'" she said.
Reynolds said her older brother has been her best friend since they were children.
"We've always been best of friends," she said. "He's always looked out for me. It's going to be such a life adjustment without him."
Neighbor Jamie Campbell described being woken by a "very large gust of wind" and the moment her husband realized the massive tree had collapsed.
"'The tree, the tree!' he was screaming," Campbell said.
Her husband Kasey was the first person to get to the home to check on the occupants and immediately called 911 when he noticed the destruction, Campbell said.
When SDPD arrived, Campbell's husband was using a ladder to try to reach the occupants through a window.
"She had a pulse but as I got to her airwaves she was -- at that point I just stayed there with her. I held her hand," Kasey said.
[[504652101,C]]
The massive tree caused significant damage to the structure of the home and was hindering crews from reaching the victims inside, Sharp said.
"There's so much damage to that house that we would have to go back in there, remove the tree and have to be able to clear some of the other areas," Sharp said.
Crews were also dealing with a gas leak within the home, preventing them from going inside.
Live power lines had gone down up to a half-block away from the crushed home, Sharp said.
San Diego Gas & Electric was called to deal with both situations. While gas was easily shut off, by 11 a.m. crews were still working to repair damaged power lines.
Massive Tree Crushes Point Loma Heights Home, 2 Dead
A neighbor identified as John said he heard the tree crack early Monday. He estimated that the Torrey pine, one of four large trees in the neighborhood, was anywhere between 75 feet to 100 feet tall.
"This tree has just been waiting to be blown over," John told NBC 7. "When I looked out the window, I could tell the tree – it's gone."
Sharp said he did not know of any problems with the tree prior to its collapse and said the accident was unusual.
"We don't see this sort of damage and with the fatalities, it's very rare in San Diego," he said.
In the tree's wreckage, many were left wondering who is responsible for an incident like this.
"If the growth of a tree creates a situation where there is a clear hazard to a neighbor or their property, they can take reasonable measures to deal with it," University of San Diego law professor Mary Jo Wiggins told NBC 7.
Wiggins said homeowners are responsible for taking care of any trees on their property. This includes preventing loose branches or unsteady limbs from causing harm to others in the area.
"If a landowner fails to meet that burden, they can be liable to injury to people or property," Wiggins said.
However, if an accident happens due to an act of nature, like rain or wind, then Wiggins said the property owner is not responsible.
The USD professor said local property lawyers encounter these issues a lot because San Diego's housing density doesn't give much room for large trees to grow freely. Additionally, she mentioned the county's unique weather.
"I think the best advice is to use common sense and be a good neighbor that takes care of most problems that can be resolved," she said.
Crews could be seen removing the tree and debris off from the crushed home Tuesday afternoon.
Brandon Bellis with Three Men and a Tree Inc. spoke with NBC 7 about how important it is for homeowners to maintain trees on their property.
"You need to do annual checkups on your trees. There's always something that needs to be done," he said.
Three Men and a Tree Inc. clean up trees and check their structures to avoid breaking over time or during stormy conditions.
"I don't think I'd use the Point Loma tree as an example," Bellis said. "Perfectly manicured tree, it's kept up with every year. I think this was just something, a case from rain, I don't think it was anybody's fault."
The tree collapsed during a high wind warning for San Diego, which predicted that gusts along the coast could reach 25 miles per hour. It followed about a week's worth of rain in the region that dumped inches of rain along the coast.
NBC 7 Meteorologist Sheena Parveen said that while typically a 25 mph gust would not be strong enough to topple a tree, if the tree was already on soft ground and had root issues, gusty winds could contribute.
Bellis said he saw the tree one day before the incident while out driving.
"It builds up, builds up, and it gets heavier and heavier, and then it becomes a problem," Bellis told NBC 7. "They break and you never know where it's going to break exactly, but if the tree's close to your house … it probably should be kept up annually."
Maintenance can cost between $100 to $200, he said. This can include structure pruning, weight reductions, and even some removals, though Bellis cautioned against removing trees.
"The whole canopy [in San Diego] is 60 to 70 shy of what it should be," he said. "[Removing trees] is going to be an offset to the environment."
Bellis suggested replacing trees that need to be removed.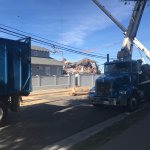 Please refresh this page for updates on this story. Details may change as more information becomes available.