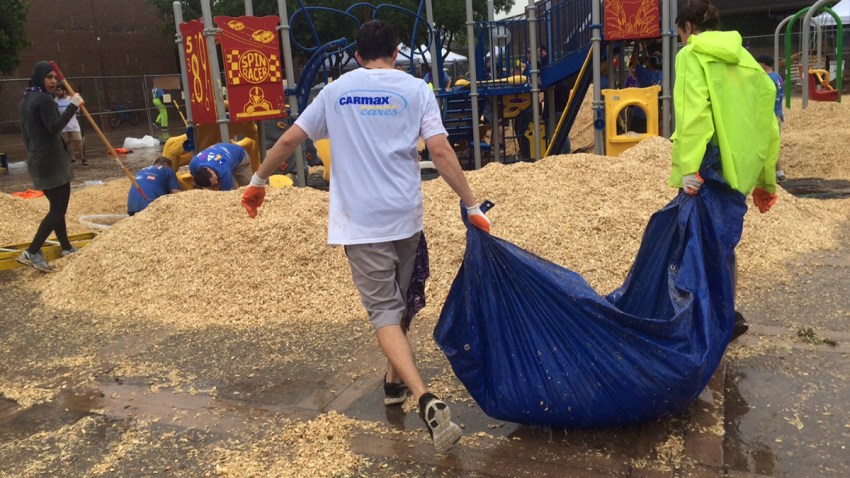 Despite the pouring rain, 260 volunteers came together Thursday to build a new, colorful playground in El Cajon, and work on eight other community beautification projects.

City of El Cajon spokesperson Monica Zech said the newly-built KaBOOM playground spans a 2,800-square-foot area near the El Cajon Branch Public Library at 201 E. Douglas Ave.
Zech said volunteers began working on the playground around 8 a.m. and were determined to finish the project "rain or shine."

Zech said every KaBOOM! playground has a unique layout and is designed by children to cater to their special interests. Volunteers created this particular park's overall infrastructure in less than six hours, adding swings and other equipment where kids in the community will now play.

Zech said another KaBOOM playground was also being built simultaneously – all the way in Fort Worth, Texas, Thursday – and volunteers at both sites had themselves a little friendly competition to see who could complete their project the fastest while also documenting the progress of their projects via social media.
Throughout the day, points were tallied for each team. Leaders from each city, El Cajon Mayor Bill Wells and Fort Worth Mayor Betsy Price also participated in the competition, Zech said, each vowing to wear a T-shirt with the other city's name on it if they racked up less points.
In the end, the volunteers at the El Cajon project site finished their playground an hour ahead of schedule and earned six points to Fort Worth's four points. Price will now wear a T-shirt bearing El Cajon's name and snap a photo to send to Wells.
Zech said volunteers worked eagerly throughout the day even as it rained.
"It rained the whole time - and no one really cared, they worked as if it wasn't raining - and finished in record time," she said, proudly.

Both playground projects were sponsored by the CarMax Foundation and the majority of volunteers were employees from the company.
In addition to the new play space, CarMax also presented the local non-profit organization, Friends of the Library, with a check for $10,000 that will help support the library and its programs for children.

Partnered with KaBOOM!, the CarMax Foundation plans to build 33 playgrounds by the end of 2018, reaching a total of 300,000 kids.
Zech said children should be able to play at this playground in El Cajon within the next week or so, after the cement dries and final touches are completed.