The owner of an independent cinema in San Diego believes there's only one way small theaters like his can compete with theatre chains and online streaming services - by offering theatergoers quality films.
"We were the only movie theater that screened the premiere of "Roma" which won three Oscars," Ethan Von Thillo, executive director and founder of Media Arts Center Digital Gym said. "We screened it for ten weeks."
Digital Gym is a 46-seat theatre located in North Park.
"It all started 26 years ago when I started the San Diego Film Festival. There is a huge Latino population here but there is no movie theater or movies that represent the community," Von Thillo says. "We wanted to show that the Latino community is much more diverse than what we see on television."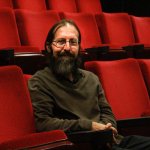 Von Thillo's goal is to screen films that wouldn't be shown otherwise. According to Von Thillo, cinema gives the opportunity to travel without leaving the theater.
"We screen films from France, from Asia, from all over the continent," Von Thillo said. "It helps the community to look at the world differently."
Digital Gym seems to be an exception when the number of movie theaters in the United States have decreased since 1995. In 1995, there were 7,744 theaters and in 2018, there were 5,803 theaters in the U.S., according to the National Association of Theatre Owners.
Nowadays, it is difficult for independent movie theaters to survive against large theaters chains like AMC, CGR or Regal Cinemas who have thousands of theaters all over the country.
However, the founder of Digital Gym is optimistic.
"Yes there is huge competition with AMC," Von Thillo said. "However, I think there is actually a lot of smaller art house independent movie theaters. In rural area, there is a real lack of culture programs but in major cities, independent movie theaters are flourishing."
Ethan Von Thillo knows he can't compete against Hollywood or streaming platforms like Netflix or Amazon. He doesn't have their marketing budgets. Instead, he relies on quality to attract San Diego to the theater.
Kristian Perez-Franco has worked at Digital Gym for more than two years. He also believes in independent movies.
"I am a fan of independent films," Perez-Franco said. "I used to come to Digital Gym as a guest before working here. That is how I first knew this place."
Perez remembers one film that he discovered thanks to Digital Gym.
"It was "You're Sleeping Nicole", a Canadian drama-comedy," Perez says. "Digital Gym is a great place because they can choose what they want to screen."
Digital Gym is not only a cinema, but it also has a Media Center, and they offer filmmaking courses to kids ages 6 to 14 years old.
Keith Russell is one of the teachers.
"These kids bring out the best of me," Russell says. "We teach them the elements of filmmaking and the elements of storytelling."
In one week, kids learn how to use a camera, use a green screen and edit a video on a computer software like iMovie and Adobe Premiere. On the last day of camp, they screen their short movies at the Digital Gym cinema.
"We are making independent filmmakers right here," Russell says.
This report was a collaboration between NBC 7 and the SDSU School of Journalism and Media Studies.