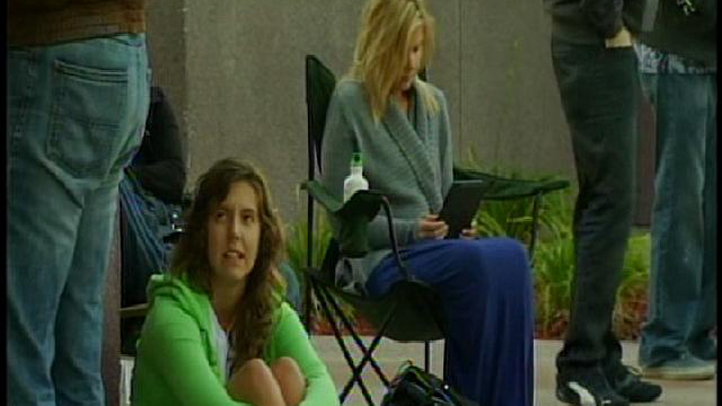 As the crowds for the Occupy San Diego protest begin to dwindle downtown, in another part of city they've only started growing.
The iPhone 4S was released today across the nation and, in usual fashion, throngs of people lined up overnight to get their hands on what some see as the best smart phone on the market.
"It's our must successful launch so far," said a spokeswoman at the AT&T store located at Camino Del Este North in Mission Valley. The iPhone 4S is already being sold overseas and is now making its way to customers in the U.S. and Canada.
Only a week after the death of Apple co-founder, Steve Jobs, the phone hit stores, with the company's other co-founder, Steve Wozniak, being one of the first people in line for it.
In Mission Valley, crowds had been building overnight at the AT&T store in anticipation of the phone's 8 a.m. release, according to store officials.
Also adding to this year's gathering were virtual crowds who for the first time were able to pre-order the newest iPhone on AT&T's website.
The fifth incarnation of Apple's infamous smart phone is said to be made better with a collection of new and upgraded features including faster service and HD video, which customers like Matthew Brickley said they're looking forward to.
"I've been having a lot of problems with reception, dropping and what not," said Brickley, who had been camped out in front of the AT&T store since 10:30 p.m. "Now I'm going to be pretty much guaranteed reception all the time."
Cellular, wasn't the only type of upgraded service Brickley, a finance major at San Diego State University, was looking forward to.
The iPhone 4S boasts a new feature called "Siri", which is being billed as a personal assistant.
The application supports voice input from users and will act upon their commands, according to our Press:Here bloggers.
"It looks pretty awesome, "said Brickley, "you can talk into it, whatever you want, and it will spit out exactly what you need."
Without Jobs, it seems Apple and its products will maintain a rapport with customers for years to come.
When asked whether he thought about waiting and getting the iPhone 4S next week, without the crowds, Brickley was a bit perplexed.
"I could of," he said, "but I want the phone now."