A San Diego man learned his sentence for his role in the deaths of two people killed in a DUI crash on Interstate 8 two years ago.
Mario Castaneda-Carranza, convicted in the deadly crash on westbound I-8 near Lake Jennings Park Road on April 19, 2014, was sentenced to 30 years to life in prison yesterday, according to the District Attorney's Office.
Carranza was driving a 1997 Nissan Sentra at approximately 70 mph when, for unknown reasons, he drifted to the center divider.
While trying to correct back to the right, Carranza lost control of the car.
California Highway Patrol investigators said the car went through a chain link fence and then plowed into a concrete culvert.
The impact killed two passengers - Carlos "C.J." Kristopher Vargas of Chula Vista and Monica Lupercio of San Diego, according to the Lupercio family. Both victims were 20 years old.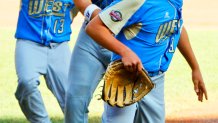 Prosecutors filed murder charges because Carranza had a previous DUI conviction and a blood alcohol level of 0.30 at the time of the crash.