More than a year after a bank was burned to the ground during riots that took place after civil unrest in La Mesa, a groundbreaking ceremony will be held for a new one as the community continues to rebuild and heal.
A new Union Bank branch will be constructed at the site where the old one once stood before it was destroyed the night of May 30, 2020, when riots followed a day of peaceful protest in La Mesa.
Community members took a stand against the controversial, on-camera arrest of Amaurie Johnson by La Mesa Police Officer Matt Dages and the in-custody killing of George Floyd in Minneapolis. Protesters chanted against racial injustice and police brutality and as the evening progressed, so did the tension between participants and police officers.
Looters took advantage of the escalating atmosphere that night and broke into local businesses, vandalized buildings and even set some on fire – including a Union Bank and nearby Chase Bank.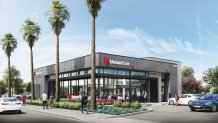 Agents with the San Diego FBI field office said two San Diego men were arrested in connection to the Chase Bank arson – 19-year-old Jacob King and 33-year-old Ricky Bernard Cooper. King was booked on charges of arson of a structure and looting, while Cooper was booked on four counts of looting and a felony charge of arson of a structure.
The ravaged Union Bank branch was replaced by a smaller temporary building that served the neighborhood while crews prepped the site for the new building.
"You know, it's really exciting. We're excited, we're thankful," branch manager Carlton Hill said.
"After the fire there was a groundswell of support from the community," Hill added.
"It's such a bad memory. Make everybody happy, right?" Those are thoughts from Brandy Torres. She manages the La Mesa Antique Mall, and has an account with Union Bank.
"We are doing cartwheels down the boulevard. We are so happy. Having that gone, and a new brick and mortar bank as opposed to a portable bank, it'll be nice she said.
There's no doubt Torres is happy the bank is being rebuilt, but she doesn't think it should erase the memory of what happened on that block last May.
"I think the memory will always be there and it should. We need to learn from bad experiences," she said.
For Hill, the new branch will be an exciting new chapter in Union Bank's La Mesa story, which started in 1926.
"We just want to make sure we are right back where we started. Our customers know where we're at, we haven't made any changes, we're just excited for them to come back," he said.
Union Bank said they hope to have the new building open by the end of the year.