One of the largest celebrations will be the Port of San Diego's annual Big Bay Boom 4th of July Fireworks Show.
With so many people all heading to the same place on a weekend night, you may want to plan ahead.
Free shuttle service will be offered to Harbor Island and Shelter Island. Get pickup and drop off locations here.
All three MTS Trolley lines provide direct service to downtown San Diego for the fireworks show.
MTS is adding extra service on the Green Line between Qualcomm Stadium and downtown San Diego beginning at 5 p.m.
Passengers can expect trolleys to depart every 7.5 minutes until the start of the show at 9 p.m. and again after the show until 11:30 p.m.
For the Blue and Orange Line, the last trains will depart just before midnight.
Check the holiday schedule at www.sdmts.com/bus/detours/holidaycalendar.asp.
Hundreds of thousands of people will line San Diego Bay to see the show which kicks off at 9 p.m. For those who've never experienced the holiday here in San Diego, fireworks are launched simultaneously from barges around the bay.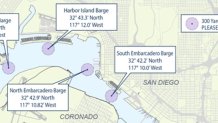 Crowds can tune in to choreographed music on MAX 105.7 FM and MIGHTY 1090 AM.