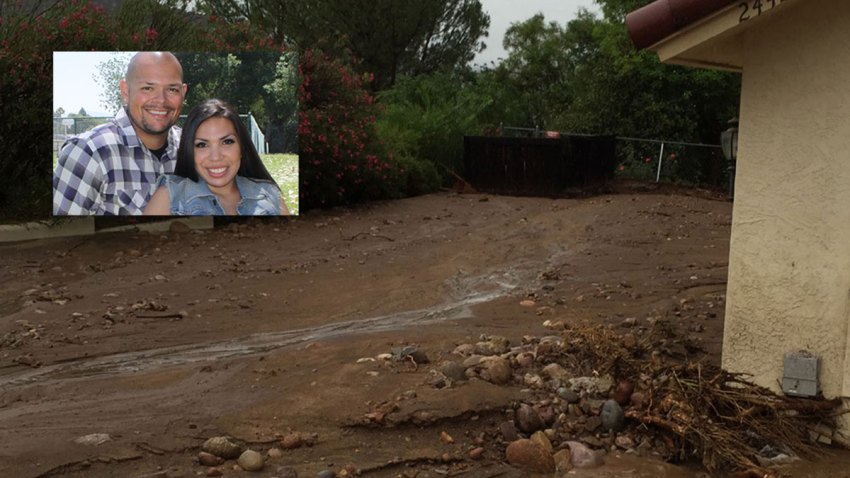 For many residents of Ramona County the torrential downpour this past weekend in San Diego was a welcome reprieve from the drought. But for Claudia Gonzalez, it turned into a nightmare.
Gonzalez's parents, Luis and Imelda Gonzalez, have lived in Ramona since she was three years old and on Sunday witnessed their house being devastated by a massive flash flood mud slide.
A brown river of dirt and debris raged down the mountain next to their home and flooded the entire bottom story and garage of the house. They've estimated that the repairs for such damage will cost upwards of $50,000.
However, the extreme chaos of the storm is not the only thing weighing on Gonzalez's mind-- her wedding is scheduled for Saturday.
"It's so stressful," Gonzalez told NBC 7 Thursday afternoon, "I want to focus on walking down the aisle, but I'm just so worried about my parents. Our house was definitely hit the hardest in the neighborhood."
Luckily, Gonzalez's wedding dress was safely stowed in a bag in an unaffected upstairs bedroom. Although her dress remains unscathed, Gonzalez's mindset has undoubtedly been rattled.
Set to say "I do" at the Twin Oaks Golf Course in San Marcos this Saturday, Gonzalez expressed to NBC 7 that she is trying to stay positive amidst the pain.
"My fiancé and I are just trying to think of the best. He told me that we should be on top of the world at our wedding, and that it's okay to push aside all the other stress for this one day," Gonzalez said, trying to stay upbeat.
Gonzalez first met her fiancé Scott Lyman 8 years ago, but the pair didn't start dating until many years later. After being together for a year and a half, he proposed to her on Christmas at Disneyland, one of her all-time favorite places.
In the past few weeks, Gonzalez has been giddy with joy whenever she thought about walking down the aisle to marry her best friend.
But what should have been a time of celebration quickly turned into a time of crisis. Gonzalez was sad to say that a pre-wedding golf outing between her father and fiancé was cancelled today because of the disaster. Instead of spending quality time together before they become one family, the two men are cleaning up the mess.
"The water came rushing down the mountain by our house and filled the garage with four feet of mud," Gonzalez lamented. "My dad's car won't work right, the entire downstairs was basically turned into a giant pond, and the pool is wrecked. We had to cut out a portion of the drywall because it was beginning to rot."
Without flood insurance, the family will have trouble covering the cost of the repairs.
In an effort to help her parents, Gonzalez started a Go Fund Me Campaign to raise $50,000. As of Thursday afternoon they have raised $3,515.
"It's so generous of people," Gonzalez said, a smile in her voice. "We have so many wonderful friends and family that are pitching in at all hours of the day to help us start the process. We couldn't do it without the amazing amount of support we've received."
With just days before her wedding, Gonzalez is worried that their honeymoon to Vegas will be haunted by the stress of her parents' situation.
"My parents will be on my mind the whole time we're away," she expressed. "If anyone could offer their services to help us, I would be so grateful."
Gonzalez's parents are not alone. On Tuesday, a state of emergency was declared for San Diego, Imperial, Kern, Los Angeles, Riverside and San Bernardino counties.
As part of the proclamation, state agencies have been directed to use their personnel, equipment and facilities to help relieve those affected by the storm.
Ed. Note: A previous version of this article gave an incorrect location for Twin Oaks Golf Course. We regret the error.