A flash flood warning issued for southeastern San Diego County Tuesday afternoon has expired.
The National Weather Service had issued the warning until 5:45 p.m. for the region.
Radar showed thunderstorms producing heavy rain across the Mount Laguna area just before 2 p.m.
Nearly a half an inch of rain was reported in the 15 minutes before the warning was issued at 1:51 p.m.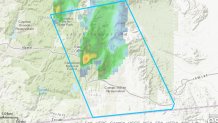 Locations that may have been most likely to be affected were:

Mount Laguna
Interstate 8 Between Pine Valley and Boulevard
Cuyamaca Rancho State Park
Interstate 8 Between Boulevard and Imperial County line
Hwy S2 between Shelter Valley and Agua Caliente
Hwy S1 between Lake Cuyamaca and Mount Laguna
Pine Valley
Boulevard
Hwy S2 between Agua Caliente and Canebrake
Lake Morena
Campo
Descanso
Anyone in those areas was advised to move to higher ground.
NBC 7's Dagmar Midcap described the thunderstorm as nearly stationary.
Stay with NBC 7 for updates. Download the free mobile app and select weather as the start screen.