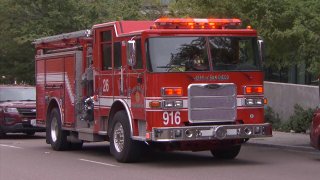 The San Diego Fire-Rescue Department and San Diego Police Department responded to a brush fire in University Heights Saturday.
The fire was first reported to be one acre around 5:30 p.m., the SDFD said.
Around 6:30 p.m., firefighters said the fire grew to one and a half acres.
According to SDPD Officer Buttle, evacuations are in place on the north side of the 4700 block of Panorama Drive.
No structures are being immediately threatened, but some are impacted, officials said.
No other information was immediately available.
This is a developing story, please check back for updates.