Flames were seen pouring out of all windows and doorways of an abandoned building in Lincoln Park as crews rushed to put it out Saturday.
An abandoned home burned down and a small Christian school, Mount Erie Christian Academy, next door caught fire Saturday morning. Everyone inside made it out of the school safely.
The fire was reported around 9:35 a.m. on S. 47th Street and Ocean View Boulevard and firefighters acted quickly and managed to stop the fire by 10 a.m.
"It was enormous flames showing and in fact it got up to the trees and so on around here adjacent to the house right here in front which obviously added to the smoke and flames put out by this," Deputy Chief Kelly Zombro told NBC 7.
SDFD said they were thankful for the decreased Santa Ana winds blowing Saturday.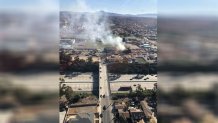 Zombro said neighbors have reported seeing homeless people living inside the home in the past.
The cause of the fire was under investigation as of Saturday evening.
SDFD advised to use caution if you are in the area.
Chula Vista Fire Department and National City Fire Department assisted.
No other information was available.