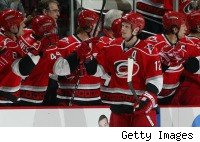 A former circus tiger in desperate need of a new home has one, thanks to the Lions, Tigers & Bears animal sanctuary in Alpine.
The tiger named Phevos arrives at San Diego International Airport on Thursday evening and will then be ferried to the East County ranch.
The tiger has been living alone in an enclosure at a zoo outside Athens, Greece; previously Phevos was seized from an Italian touring circus group in 2002 along with six other tigers, according to a news release from Lions, Tigers & Bears.
Phevos' longtime tiger companion died in March from neglect after having an untreated paw wound.
The animal sanctuary was approached by a United Kingdom citizen, David Barnes, who initially helped place the tigers at the Athens zoo more than a decade ago. Barnes reached out to the Alpine ranch after seeing deplorable conditions at the zoo, which came after the economic crisis in Greece.
"This tiger has been living in deplorable conditions for years," Lions, Tigers & Bears founder Bobbi Brink said in the news release. "We were his last hope and finally he will get the care he needs."
Lions, Tigers & Bears is seeking donations to help provide lifetime care for Phevos; it costs a minimum of $10,000 per year to provide food and medical care for a tiger.
You can donate here or call 619-659-8078 for more information.