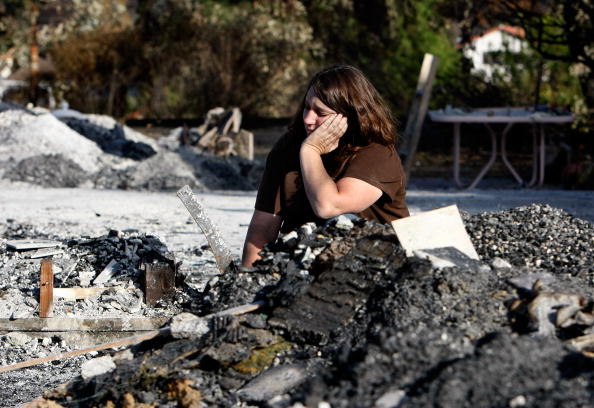 Recovering from the 2007 wildfires continues one year after the disaster hit several residents in the Escondido area. Fire victims and other members of the community gathered in Kit Carson Park Saturday to remember those who lost their lives and support those who lost their homes in the devastating fires. The official ceremony began with the presentation of the flag, the national anthem and a flyover of a county firefighting helicopter, a comforting sight to many in the dry heat of recent weeks.
"It's also a celebration of our community coming together. And many people who lost their homes still haven't rebuilt yet. So we're here to help them in any way we can to make this community whole again," said Brian Willey of 'Rebuild Escondido' a non-profit organization which raises money and offers assistance to fire victims in the greater San Diego Area.
Art McCullogh is one fire victim who hasn't rebuilt his home yet. He spent the first 7 months after the fires negotiating with his home insurance company on coverage and itemizing contents in his home. It's a familiar struggle that many fire victims have experienced. "When we left the house all I had was a computer, three socks, pants and a shirt," he recalled of the frantic evening he evacuated. He and his wife are disabled. Because his wife has emphysema, they had to leave the area completely and didn't return until crews had cleared the debris from his home.
But McCullogh says the plans for his new home are complete. And there was no question but to rebuild. "We searched for a home to buy but we didn't find one that fit our needs. And we have a view of the San Pasqual Valley. We fell in love with it when we got here 25 years ago," said McCullogh.
He will be forced to comply with new building codes made effective in California this year. Officials say codes that apply to homes in the Wildland Urban Interface require a variety of fire prevention measures including 100 feet of defensible space, fire resistant material and other requirements that are usually suggestions by fire officials. The codes will also apply to existing homes.
Division Chief Dominic Arena serves as Fire Marshal with the Escondido Fire Department. And he says getting everyone to comply with the new codes has not been easy. "Some people may not be able to afford it, or can't physically do it. But we'll work with these people on a case-by-case basis," said Arena. He hopes that the new requirements for homeowners will reduce the chances of homes being destroyed.