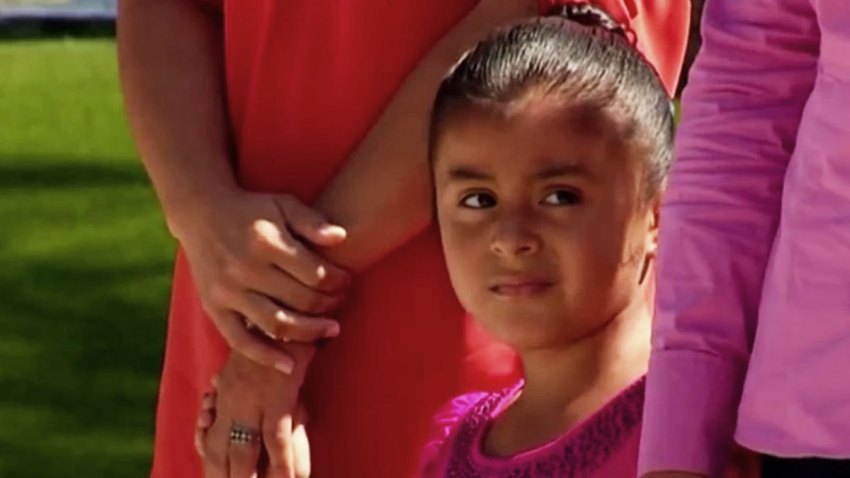 Law enforcement officers gathered in Escondido Thursday to remember Officer Laura Perez who was killed on this day one year ago.
Five-year-old Suzeth walked with her grandmother, her aunt and the Chief of Police as department employees remembered her mother as someone who set an example of hard work and service.
The 25-year-old Perez was a rookie at the Escondido Police Department but her superiors believed she had a bright future in the department. She was described as a "rising star."
Then, in July 2014, Riverside County homicide investigators found the officer's body in a storage locker in Moreno.
Soon after, Murrieta Police arrested her husband, Freddy Perez-Rodas, and charged him with murder. He has pleaded not guilty to charges. His trial is scheduled to begin in September.
But at Thursday's ceremony, everyone was focused on Perez's life as a mother and sworn officer.
Dozens of friends and fellow officers gathered outside the department for a solemn ceremony. Many department employees wore a black band on their badges.
"She was so proud to be a part of this family," her sister Alondra Rios said. "She would be so thankful for all the love and attention that you guys are giving Suzeth."
Suzeth lives with her grandmother and recently began preschool. The department holds fundraisers to help pay for her education and other costs.
"We've shared pictures and videos of Laura's daughter Suzeth," said Chief of Police Craig Carter explaining how the department is proud to be a part of Suzeth's life.
The family is trying to raise money to purchase a home which will eventually be left to the child, according to a department news release.
Since the incident, the department has also put a greater focus on domestic violence to prevent those situations in other homes.