An aide working for a San Diego-area representative was arrested Tuesday for allegedly bringing a handgun onto Congressional property, U.S. Capitol officials said.
Gunnery Sgt. Peter Boby, a congressional fellow in the Corps' Office of Legislative Affairs for U.S. Rep. Duncan Hunter, Jr. (R-Calif.), was arrested Tuesday after being stopped at a security checkpoint near a House office building at approximately 2 p.m., according to the U.S. Capitol Police.
Officers say a loaded .45 caliber gun was found during an inspection of a car at Washington Avenue and C Street.
Boby will be booked on charges of carrying a pistol without a license, unregistered ammunition, and unregistered firearm, police said. He was being processed at Capitol Police headquarters.
In a statement, Hunter said Boby was not a paid member of his staff and said the incident was likely an accident.
"He is a Marine Corps fellow--and I've had fellows for years and Peter has been a top notch performer. He's a hero who's seen combat, who's been wounded and who's been in good standing with the Marine Corps throughout. We are still getting the facts but this was most likely an accident. There's no reason to suggest it was intentional," Hunter said in a statement.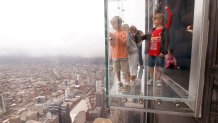 Congressional fellows remain employees of the Pentagon and are dispatched to Capitol Hill offices, where they assist lawmakers and broaden their work experience. Boby posted on LinkedIn that he has been working within Hunter's office since January 2015.
Hunter represents California's 50th Congressional District consisting of East and Northern County San Diego.
Copyright AP - Associated Press