San Diego twins who were thrust into the national spotlight when their own parents were detained by immigration officials, stepped forward Friday to demand that families not be "brutally separated" by immigration officials in the U.S.
"We need to change this as community residents," said Yarely Duarte who was joined by her sister Aracely Duarte. "We need to do something, National City. We cannot let this become something normal."
The Duarte girls, just 12 when their parents were detained by U.S. Customs and Border Protection in May 2017, wanted to show their support for three girls who watched as their mother was arrested on a National City sidewalk.
Perla Morales-Luna, 36, was taken into custody by U.S. Customs and Border Protection (CBP) Saturday near 24th and D streets in National City.
Video obtained by NBC 7 showed two men in plain clothing and a uniformed U.S. Border Patrol agent taking Morales-Luna into custody and placing her in the back of a CBP patrol vehicle.
In the video, Morales-Luna's three daughters can be heard sobbing and calling for "mom" as she was taken into custody.
"We don't want this to be the future of this family," Yarely Duarte said.

CBP said Morales-Luna was arrested for being in the country illegally. Agent Michael J. Scappechio said Morales-Luna has been arrested previously but would not confirm the charge.
Scappechio said Morales-Luna was identified as part of a "criminal smuggling organization" in East County.
Attorney Andrés Moreno II said his client was born in Mexico and has been in the country since she was 15. She has no criminal history, he said.
He said she was on her way to pay her rent Saturday when she was picked up by federal officers.
"We're at a bit of a loss as to why they're alleging the alien smuggling issue," Moreno said.
Morales-Luna was in ICE custody Friday awaiting transfer to a detention facility, her attorney said. A bond hearing is scheduled for March 20 in Otay Mesa.
Several community members said the allegations made by immigration officials were unfounded and are often used to defend the actions of agents in the field.
Family spokesperson Judith Castro, who said her own parents were deported when she was 15, said the accusations of criminal wrongdoing are nothing new to the Latino community.
She said she was sickened at the way the arrest was handled.
"No explanation as to why they're taking their mother. No comfort. No compassion in the way this woman was taken," Castro said.

The daughters are staying with an aunt while their mother was in custody.
"This injustice that happened to them which comes nowhere near what happened to our family," Yarely Duarte said as she described the arrest as "brutal."
As for the Duarte family, they appeared together at Friday's news conference. The oldest child, Francisco Duarte, recalled the allegations made about his father when his parents were arrested in May.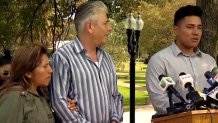 "My dad has been an ice cream man since he got to this country," the teenager said. "He sells ice cream and he rents carts."
Francisco Duarte and Rosenda Perez have since been reunited with their family.
"They put our family through all of that. On top of taking my parents, they branded them as criminals," the younger Francisco said.
Duarte's parents are currently out on bond and facing removal proceedings.