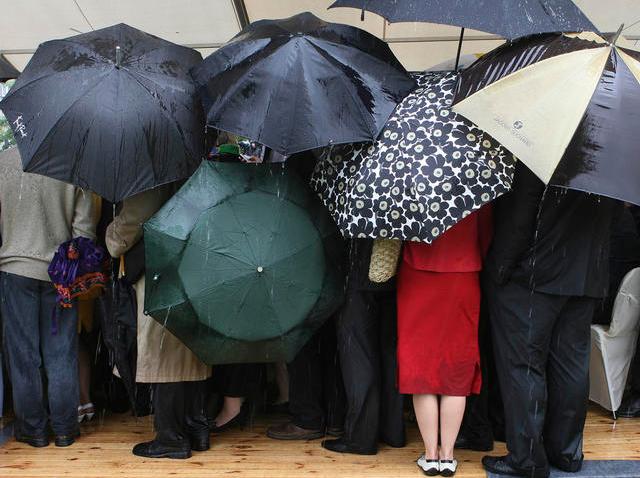 Rain is pounding San Diego as the second major storm in two days has arrived. The winds shouldn't be as strong or the rain as heavy as Monday but the timing probably couldn't be worse for locals as they head home from work later in the day.
Rainfall amounts, for the most part, are expected to be about half what we saw on Monday but maybe not for everyone. We should expect 3/4 of an inch to an inch a half at the coast and up to twice that in the mountains.
On Monday, the heavy rain brought flooding, power outages and dozens of traffic accidents. It started with wind and light rain in Del Mar. By the afternoon, it was a much stronger storm.
Cars at Fashion Valley were under water as rain gushed into parking garages. Shoppers were unable to cross the street where the San Diego River overflowed. A similar scene in Imperial Beach where winds toppled trees.
In Ocean Beach, in the 5000 block of Long Branch Avenue debris from knocked over trash cans clogged a drain but within minutes standing water was three feet high.
As for the Monday storm, because San Diego is basically at the bottom of the "food chain" as far as California rainfall goes, the storm lost some of its intensity by the time it moved this far south. In the end, we didn't get the rainfall amounts we had expected but it still turned out to be the biggest storm we've seen here in some time.
Rainfall totals as of 8 p.m. ran everywhere from about .60 " on Otay Mesa to a little more than 2-inches up on Palomar Mountain. Strong winds were also a factor: Cabrillo National Monument clocked one gust at 49 mph. Lindbergh Field's strongest gust hit 40 but winds of 44-45 mph were measured up and down the county from Imperial Beach to Oceanside.
Due to the nature of Tuesday's fast-moving front, we could see isolated thunderstorms develop as cold storm cells collide with warmer air already in place over the county. Should this occur, some areas could see very heavy rain for short periods of time, leading to possible flash-flooding along with the thunder and lightning.
Overall, the rain should be steady as the leading edge of the front moves over the county, then should taper off to showers through about midnight.
There is a third storm, poised to move in late Wednesday and it could bring maybe 2-3 times what we saw Monday, in conjunction with some fairly deep snow in the mountains above 5,000'.
Send in your weather pictures to isee@nbcsandiego.com.
NBCSanDiego's iPhone app is the best way to stay in the know on the go. Click here for more information.