The city of Coronado has decided to replace a sign that has long been a fixture on the island – a church directory – and some residents are bothered by the change.
"I think we're just getting further from faith," said Veleria Fabiszak, a parishioner at Sacred Heart Church in Coronado. " I would want to hold on to that sign to show…that we're not getting rid all of our values."
The large, brown wooden sign has stood at Spreckels Park at Orange Avenue and Sixth Street for years. It lists information for 10 churches that can be found in the community.
Structurally, the sign is still in good shape but the city has plans for it to come down as early as Friday as part of an effort to update signage around Coronado.
In its place, Coronado Mayor Richard Bailey said the city plans to put up a sign that has more space to ensure all community organizations are acknowledged – not only churches.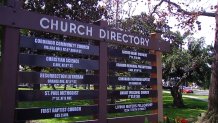 Right now, the Church Directory is dedicated entirely to the locations of Catholic, Baptist and other Christian churches in town but, while the new structure will also include that information, Bailey promises the new sign will be more informative and representative of the entire Coronado community, including other faith-based groups.
During the project, the Church Directory sign will be removed.
"This information has been communicated to the chair of the Coronado Council of Churches," Bailey told NBC 7. "The city will facilitate the redesign with the goal of creating informative and representative community signage."
As part of the city's project to update signs around the island, a community sign at Third Street and Orange Avenue will also be replaced. Bailey said that sign is also at "maximum capacity" and will be designed to include more local organizations.