San Diego police believe the suspects of the police shooting made be connected to a county-wide crime spree, sources tell NBC 7 San Diego.
Chula Vista and San Diego police were investigating a burned-out car found in a cul-de-sac Monday night and its possible connection with the shooting of an off-duty police officer earlier in the day.
The black Suzuki hatchback may have been used as a getaway car by two suspects wanted in the shooting of veteran San Diego police officer Les Stewart, 57, sources told NBC 7 San Diego.
Stewart was hospitalized in guarded condition after being shot in the head near an ATM machine at the San Diego County Credit Union on South Escondido Boulevard just after noon. Authorities said Tuesday he is in stable condition.
One suspect went through Stewart's wallet and saw his badge, then took his wallet and cell phone and shot him in the head "execution-style" officials said. The officer, who was off-duty at the time of the shooting, is set to retire in December.
Several employees at the credit union pulled the officer in and locked the door immediately after the shooting, according to Lt. Craig Carter with the EPD.
The bullet only grazed the top of the officer's head, leaving a three inch-long wound that took about six staples to close, sources said.
The suspect was described as 25 to 40 years old, 5-foot-7, stocky build, wearing a black button up long-sleeved shirt, black pants, a black wind breaker-type jacket and a black baseball cap with the word POLICE in white lettering.
The suspect fled on foot, heading south on Escondido Boulevard toward Felicita Avenue.
Meanwhile, authorities are also looking into whether the shooting was related to a carjacking in in Mission Valley at about 9 a.m Monday.
The victim told police he was approached by a male suspect that matched the description of the suspect who allegedly shot at the officer. The suspect demanded the victim's money and wallet at gunpoint and then fled in a car.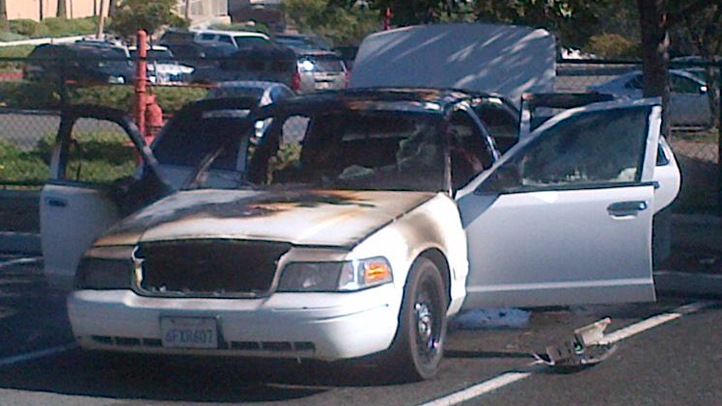 Later on Monday, about an hour after Officer Stewart was robbed and shot, a man was approached in Oak Park by a man and a woman wearing black clothing with the word "Police" in white lettering on the front of their clothes.
The man pointed a handgun at the victim and demanded his black Suzuki. Police received calls around the same time that a white car (right) had been set on fire at a nearby parking lot (right).
Then, at 7 p.m., the black Suzuki was recovered in Chula Vista.
Due to the similarities in suspect descriptions, police believe all these incidents are related. The suspect is still at large.
Anyone with information concerning this case is asked to contact San Diego County Crime Stoppers at (888) 580-8477.