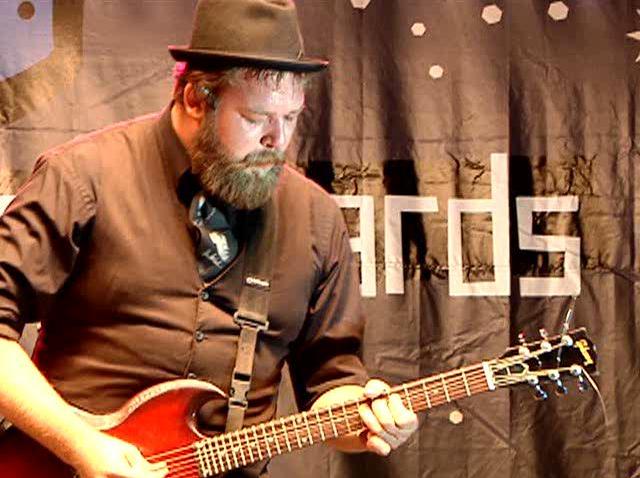 The San Diego Music Awards honored the best of the local music scene Thursday night at Viejas Concerts in the Park.
The SDMA's serve more as a gathering of alumni (albeit rowdy alumni) conveniently located near the casino and serves as an example of the local music scene ecosystem of an incestuous forming and reforming of bands. They share, borrow and steal band mates like trading cards. So for them, this SDMA biz is one big party.
Among the winners: Slightly Stoopid for Artist of the Year, Jason Mraz ("We Sing, We Dance, We Steal Things") for Album of the Year, Deep Rooted for Best Hip Hop Album, MC Flow for Best Hip Hop and Josh Damigo for Local Recording of the Year.
Anya Marina took home Song of the Year for "Move You." One time a local DJ, Marina has been touring with Mraz and recently played Street Scene for the first time.
Silent Comedy, winner for Best Pop beating out an impressive crowd of talented nominees, showed off their signature moustache look as they performed for the crowd.
Steven Ybarra won the award for Best Acoustic. "It's been a blessing to win. I didn't expect it but it's been a really good journey just to get here," Ybarra said. "I'd like to thank San Diego for voting for me. I really appreciate it."
The Zeros, an American punk rock band, formed in 1976 in Chula Vista, received a Lifetime Achievement Award. As he presented the award, Wayne Kramer, a guitarist with The MC5, described the challenge high school bands face. "To make something out of nothing. And in that regard, the Zeros did pretty good," said Kramer. "The Zeros have been tested."
Apes of Wrath, was honored as Best Alternative, and shared their enthusiasm via Twitter. "We got a San Diego Music Award!" @apesofwrath tweeted last night. "Big thank you to everyone who voted and was involved."
The title Apes of Wrath was a classic Bugs Bunny cartoon apparently having something to do with a drunken stork, a guerrilla and a misinterpreted Bugs Bunny… so either way, classic novel or classic cartoon they also win in the modestly brilliant band name game.
Other Winners:
Best Alternative Album: Scarlet Symphony
Best Rock: Transfer
Best Rock Album: Irradio
Best World: Stranger
Best World Album: B-Side Players
Best Jazz: David Patrone
Best Blues Album: Lady Dottie & The Diamonds
Best Club DJ: DJ Gabe Vega
Best Electronic: The Album Leaf
Best Pop Album: Get Back Loretta
Best Local Recording: Josh Damigo