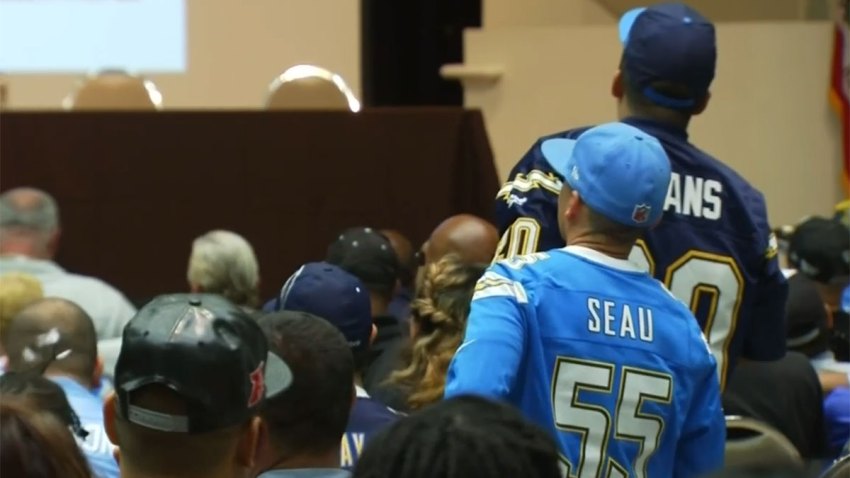 A town hall billed as the first chance for Carson residents to hear from the San Diego Chargers and Oakland Raiders about building a joint-use complex in their city didn't go as planned.
Even though it was slated as a meeting to update residents about a new stadium, no new information was delivered. No presentation was made by either team to the crowd of fans wearing Rams, Raiders and Chargers jerseys. In fact, the Oakland Raiders did not send a representative to the meeting.
Chargers special counsel Mark Fabiani, who was there to meet residents and community leaders, told city leaders there was no update to offer.
Carson's Mayor Albert Robles said out of respect for the Raiders, it would be unfair to ask the Chargers to present the plan.
Emcee and NBCLA sportscaster Fred Roggin appeared surprised and asked the crowd, "Did anyone want to see the NFL presentation?"
The room responded with an overwhelming "Yeah."
Fabiani told NBC 7 the plan was to have the city make the presentation.
"We were invited to attend and we did. It gave us s chance to meet personally with many of the labor and community leaders who have been so supportive," he wrote.
The $1.7 billion stadium proposed for Carson would house both teams -- if their current home cities can't woo them back by upgrading their current facilities or offering new state-of-the-art stadiums.
The 72,000-seat stadium is one of two in the LA area being seriously considered for an NFL stadium, along with a $2 billion stadium and entertainment-residence complex in Inglewood that's backed by St. Louis Rams owner Stan Kroenke.
Meanwhile, San Diego Mayor Kevin Faulconer spoke to NFL commissioner Roger Goodell Monday on efforts for a new stadium in San Diego.
The chief negotiator for the city and county will meet with the NFL in New York.